Explore projects in your area
Link Light Rail
Northgate Link Extension
West Seattle and Ballard Link Extensions
East Link Extension
Lynnwood Link Extension
NE 130th Infill Station
South Graham St. Infill Station
Bus Rapid Transit
SR 522/NE 145th Bus Rapid Transit
Sign up to receive Seattle area updates
Key excerpts from the report
Transit helps keep the region moving as our population grows
In the last 10 years, Seattle's population has increased faster than any other big city in the country, growing by 18.7 percent since 2010 (Source: Seattle Times). People are discovering the quality of life here at a record pace. But when all these people are on the roads at the same time, gridlock happens.
Light rail and bus rapid transit (BRT) are the best options for moving thousands more people every hour in the Seattle area without adding to traffic.
Transit provides reliability
Traveling in their own rights of way, light rail trains get you to your destination at the same time every day regardless of traffic.

Finances
Transit construction and operation is paid for by a combination of local taxes, federal grants, borrowing through the issuance of bonds, fares and other sources. Sound Transit recently received its 24th annual Financial Statement and federal funding Single Audit conducted by the independent outside auditing firm KPMG. No material weaknesses have been found since these audits began in 1995. Sound Transit has one of the highest bond ratings of any transit agency in the country, allowing us to obtain loans at lower interest rates, which helps save taxpayer dollars. Sound Transit's Board of Directors is made up of 17 local elected officials and the state Secretary of Transportation.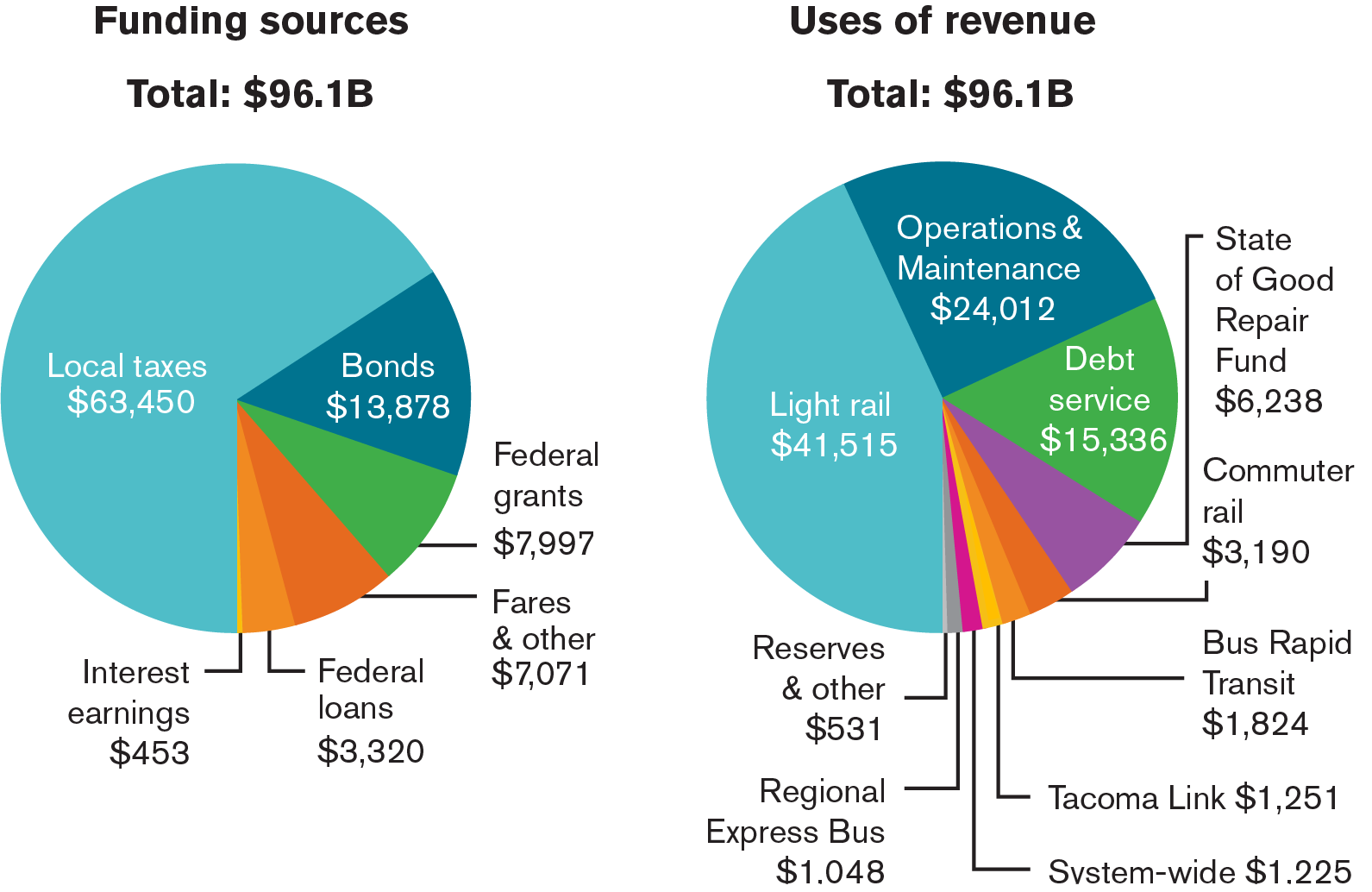 Tax rollback
After voter-approved capital projects are completed, Sound Transit will reduce taxes to a level necessary to operate and maintain the system and pay associated debt service on outstanding bond.
More about Sound Transit: