Link light rail turns seven today amid record-breaking ridership surge
Body
Link sails into its eighth year of service with 83% ridership growth over last year
Sound Transit's Link light rail today enters its eighth year of service amid record-breaking ridership growth following the March opening of new stations serving Seattle's Capitol Hill and University of Washington areas.
Newly released ridership numbers for May show an increase of 83 percent above the same month last year and 430 percent growth over fourth quarter 2009 following the July 18, 2009 opening of light rail.
"Seven years after the first Link trip, we have a greater appreciation for how historically significant that moment was for our region," said Sound Transit Chair and King County Executive Dow Constantine. "It was the day that commuters began to experience the benefits of reliable, high-capacity light rail, and they've been demanding more ever since."
Link averaged 65,409 weekday boardings in May. The latest ridership report is available here: soundtransit.org/Ridership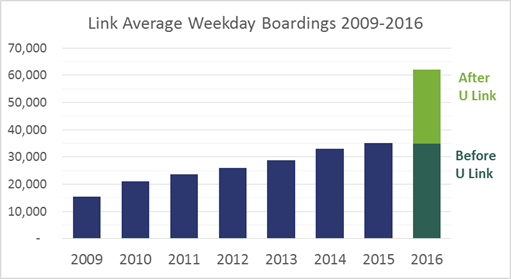 Link by the numbers:
64.4 million: Estimated total lifetime ridership through May 2016 (the last month of published data)
82,600: Highest ridership day of regular service on April 8, 2016
65,409: Average weekday ridership for May, 2016
This fall, Sound Transit opens the 1.6-mile light rail extension from SeaTac/Airport Station to the new Angle Lake Station at South 200th Street in SeaTac.
And right now contractors are mining the final Northgate Link tunnel segment that will extend light rail service 4.3 miles north from the University of Washington Station at Husky Stadium to the U District, Roosevelt neighborhood, and Northgate Mall. That project is scheduled to open in 2021.
In 2023 Sound Transit is on track to operate nearly 50 miles of light rail lines extending to Lynnwood in the north, Bellevue and Redmond's Overlake area to the east and the Kent/Des Moines area in the south. Contractors have begun East Link construction in downtown Bellevue later this spring and the light rail extension to Lynnwood is in final design.
In November voters will decide whether to expand the system further via the proposed ST3 expansion plan. The ST3 Plan would build 62 additional miles of light rail and 37 new stations to form a 116-mile regional system, as well as bus rapid transit, commuter rail and other regional transit investments. The ST3 Plan would construct light rail further north to Everett, further south to Federal Way and Tacoma, and further east to downtown Redmond. Extensions would connect West Seattle and Ballard to the system, and a new line in East King County would connect South Kirkland, Bellevue and Issaquah.