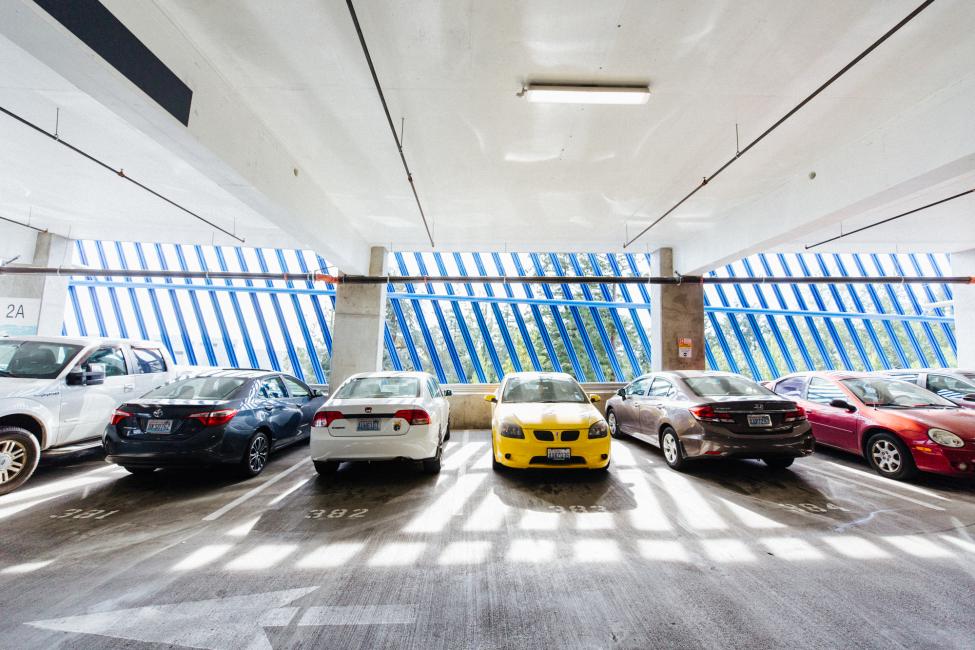 Carpool parking permits
Carpool parking permits are currently available for: 
Angle Lake Station
Auburn Station
Edmonds Station
Federal Way Transit Center
Issaquah Transit Center
Kent Station
Mukilteo Station
Northgate Station garage
Puyallup Station
Sumner Station
Tukwila International Boulevard Station
Tukwila Sounder Station.
To make your commute easier, Sound Transit is offering free carpool parking permits to groups of two or more commuters who regularly drive together to catch the bus or train. Permits give you access to priority parking areas on weekdays when arriving with two or more transit riders in a vehicle during morning rush hours.
Permit applicants must provide basic contact information and ORCA card numbers for each carpool member. Regular transit ridership is not required for initial issue of a permit, but once a permit is issued ORCA records will be checked to verify regular ridership. At least two carpool members must average three days of ridership per week (12 days per month) to qualify for monthly permit renewals.
Permits are also available at select King County Metro park-and-ride lots, including:
Issaquah Highlands Park & Ride
Redmond Transit Center
Eastgate
South Renton Park & Ride
South Kirkland Park & Ride
Green Lake Park & Ride
Tukwila Park & Ride
Aurora Village Transit Center
Kingsgate Park & Ride
Kenmore Park & Ride
Bear Creek Park & Ride
Bothell Park & Ride
Shoreline Park & Ride.
Pricing and eligibility vary depending on location. For a full list of facilities and requirements, click the "Apply now" button on the permit parking page.
Solo driver parking permits
Solo driver or "Single Occupant Vehicle" (SOV) parking permits are available for the Angle Lake and Tukwila International Boulevard Link Stations, Sounder Station parking at Tukwila, Kent, Auburn, Puyallup, Edmonds and Mukilteo, the Northgate Station Garage, and the Federal Way Transit Center.
SOV permit applicants must use a valid ORCA card at least 12 days per month to board Sounder, ST Express, or a bus from the same station operated by King County Metro or Pierce Transit.
Get notified when permits are available at a station near you.
Discounted permit pricing for ORCA Lift qualified transit riders
Sound Transit is offering a 66% discount on solo driver parking permits for transit riders who are qualified for and obtain an ORCA Lift Reduced Fare Transit Card. In addition to discounted parking, ORCA Lift card holders can get reduced fares per transit trip, or reduced price monthly transit passes loaded onto their card.
Click here to find out if you're eligible for ORCA Lift, and the nearest location to enroll and get your card.
Regional Reduced Fare Permit holders
Transit riders who are 65 years of age or older, those with a qualified disability, and Medicare card holders are eligible for a Regional Reduced Fare Permit (RRFP) card. For more information, or to obtain a card, visit the RRFP page.
RRFP card holders are eligible for the ORCA Lift rate for parking permits at participating Sound Transit parking facilities if they ALSO meet the household income requirements for participation in the ORCA Lift reduced transit fare program.
To obtain an SOV parking permit at the discounted ORCA Lift rate, please:
Review the ORCA Lift household income qualifications: household income guidelines to see if you qualify or call King County Metro Customer Service at (206) 553-3000 or (800) 756-5437.
Click on the "Apply for a permit," button above, and follow links to start an application for an ORCA Lift rate parking permit at a participating park & ride. 
Provide your valid RRFP card number on the permit application page for your preferred station
Confirm your income eligibility for ORCA Lift by providing a statement of your household income and the number of persons in your household on the application page.
 
Questions about permit eligibility, applications and payments?
Call Republic Parking Northwest at 206-783-4144 or transitriders@rpnw.com.
For information about Sound Transit's parking policies, sign up for alerts or contact parking@soundtransit.org.