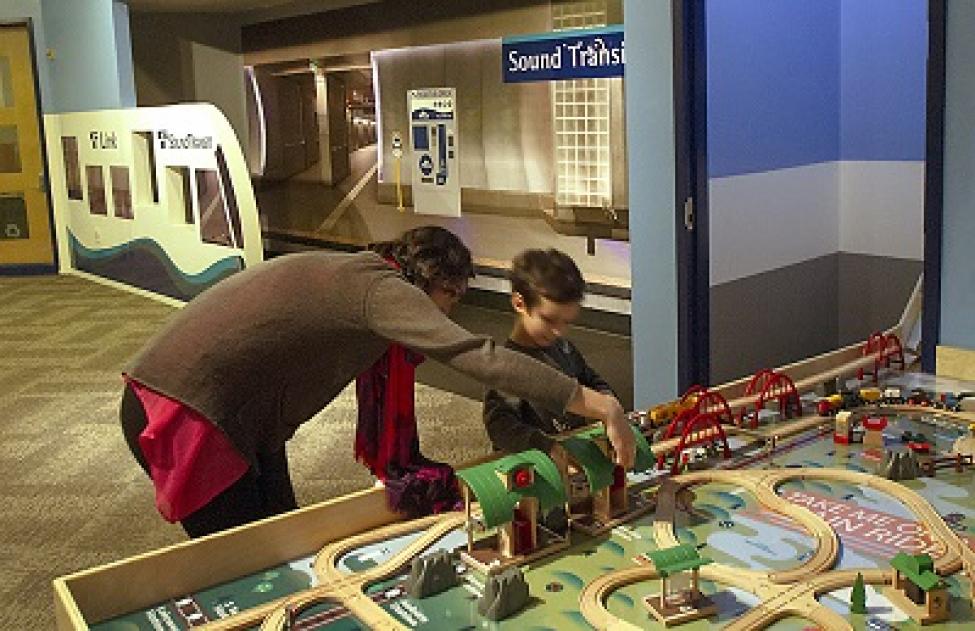 Seattle Children's Museum now features Sound Transit train exhibit; opening event on Jan. 11
Body
Tomorrow's transit riders get a chance to imagine their future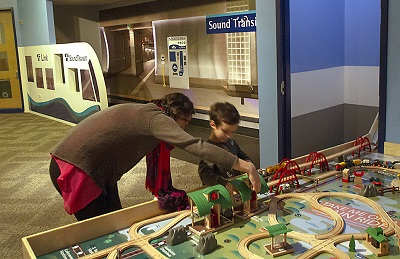 The Seattle Children's Museum is completing a new Sound Transit Station exhibit giving kids a chance to learn about public transit and picture the excitement of riding - or operating - a train. A ribbon-cutting ceremony will be held at 10:05 a.m. Jan. 11.  
"This exhibit will help inspire the next generation to ride and, we hope, continue to expand Sound Transit's light rail network," said Sound Transit Board Chair and King County Executive Dow Constantine. "What kid doesn't love a train? It's today's kids who will reap the greatest benefits from the congestion-free light rail system that Sound Transit is building today."  
The exhibit is currently open in a testing phase. Enabled by $9,600 in Sound Transit funding, the exhibit welcomes kids to step up to a large train table to drive a replica of the Sound Transit lines. Families can also stop for a photo opportunity, capturing themselves "inside" a Sound Transit train. Zap Gridlock, Sound Transit's traffic-fighting superhero mascot, will be on hand.  
"We appreciate the team at Sound Transit, who not only provided financial support for this renovation, but worked with our team to create a learning environment," said Seattle Children's Museum Executive Director Donna Marie Bertrand. "Trains and transportation are not only fascinating to kids and adults alike, but are springboards for math, science and literacy."  
Regular admission rates apply during the Jan. 11 opening. Following the ribbon cutting, families can play inside the exhibit, join in additional educational programs and explore the rest of the Museum.  
Now celebrating its 34th year, the Seattle Children's Museum is a 22,000 square foot play space where children ages 10 months to 10 years and their families can play and explore. The Museum is located in the heart of Seattle on the ground floor of the Armory. Hours are 10 a.m. to 5p.m. Monday through Friday and 10 a.m. to 6 p.m. Saturday and Sunday. Children under 12 months are admitted for free. Admission is $8.25 for children and adults, $7.25 for grandparents. Admission includes access to the kid-sized art studio, story time activities, daily programs and more. No adults are admitted without kids.