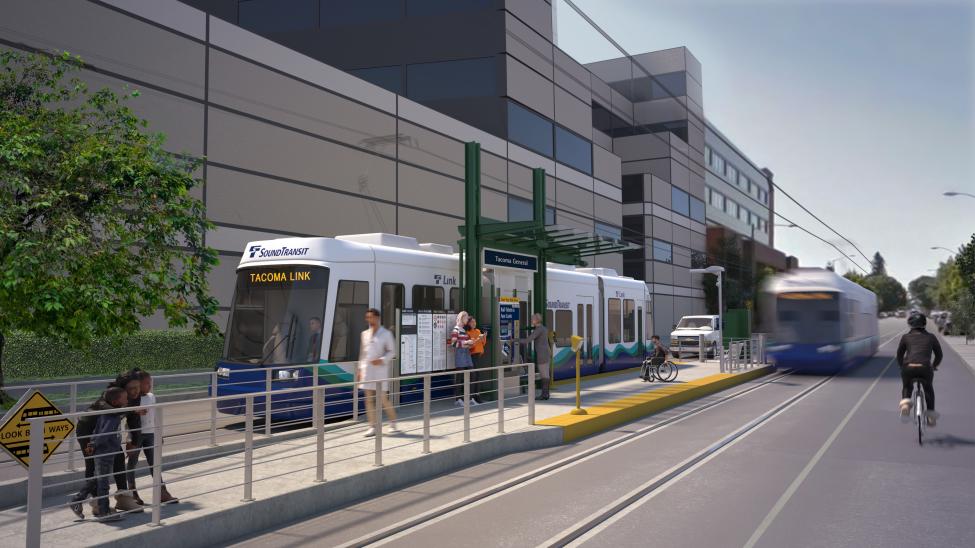 Sound Transit breaks ground on Hilltop Tacoma Link Extension
Body
Sound Transit has begun construction of the 2.4 mile Hilltop Tacoma Link Extension which extends the current rail line from the Theatre District in downtown Tacoma to the Stadium District and Hilltop neighborhoods. The project includes relocating the Theatre District station and building six new stations along the new line.
An event at People's Park in downtown Tacoma celebrated Sound Transit's partnership with the City of Tacoma and the Federal Transit Administration to build the extension. Remarks were given by U.S. Senator Patty Murray; Victoria Woodards, Tacoma Mayor and Sound Transit boardmember Mark Martinez, Executive Secretary, Pierce County Buildings and Construction Trades Council; Brendan Nelson, Executive Director, Hilltop Action Coalition; Denny Faker, Owner, North Slope Coffee House, Rep. Derek Kilmer and Sound Transit CEO Peter Rogoff.
"Years of thoughtful planning and collaboration between community, state, and federal leaders to connect downtown Tacoma with the historic Stadium and Hilltop neighborhoods helped lay the tracks for today's groundbreaking, and I am thrilled to see the results of our hard work to expand affordable public transit options for local residents, students, and commuters," said Senator Murray, a senior member of the Senate Appropriations Committee. "As a voice for our state in the U.S. Senate, I was proud to secure federal investments in this critical project that will help increase mobility, create jobs, and open new opportunities for economic growth, and I will keep working with Sound Transit, the City of Tacoma, and other community leaders to see this vital project through to its completion."
"Hilltop Tacoma Link provides additional access to our downtown corridor and will help fuel our economic growth," said Tacoma Mayor and Sound Transit boardmember Victoria Woodards, "This ground breaking event today would not have been possible without the support of Sen. Murray, Rep. Kilmer and our partnership with the Federal Transit Administration. Our city is poised to grow by 64 percent in the next 20 years and expanding Tacoma Link will connect residents to our regional transit system for years to come."
"Expanding Tacoma Link will bring $250 million in economic development to our region's economy. Best of all, it connects neighbors to each other, cuts traffic and helps people avoid hefty parking bills." Kilmer said. "As a longtime supporter of this project, I'm excited construction is getting started. I'll keep pushing Congress to invest in infrastructure projects that create and support local jobs."
"Extending Tacoma Link to the Hilltop District will connect additional neighborhoods with employment centers like downtown Tacoma and the Medical Mile, "said FTA Acting Administrator K. Jane Williams. "The Administration's commitment to this project recognizes the strong financial support of the City of Tacoma and the local community allowing for a balanced federal share."
Sound Transit selected Walsh Construction Company II, LLC to build the Hilltop Tacoma Link Extension and build the new platform stations. The $217 million project expands the existing Tacoma Link rail line up Stadium Way, 1st Street, Division Avenue and down Martin Luther King Jr. Way to South 19th Street. The project is funded through a partnership between Sound Transit, the City of Tacoma, a $75 million federal Small Starts grant and with support from Senator Murray, the project also received $15 million federal TIGER grant.
Service on the new extension is scheduled to begin in 2022.  A future voter-approved extension of Tacoma Link will extend this neighborhood-scale service to Tacoma Community College by 2039. 
More information on the Hilltop Tacoma Link Extension is available at www.soundtransit.org/htlink