Early morning concrete pour - Roosevelt Station
Body
As early as Tuesday, July 24, Sound Transit's contractor will conduct a large concrete pour requiring work to begin at 5 a.m. at the Roosevelt Station site. A temporary noise variance permit has been obtained from the City of Seattle for this work. This concrete pour is expected to take one day.

What to expect: 
Traffic impacts: Temporary closure of northbound lane along west side of 12th Avenue NE between NE 65th and NE 68th Street for concrete pour on Tuesday, July 24. 
0 Concrete trucks will enter and exit the site from this lane.
Construction activities: Setting up the concrete pump. The contractor will install sound barriers around the concrete operation to help keep noise to a minimum.
Increased vehicle traffic: 10 trucks per hour. 
Equipment: Concrete pump truck, concrete trucks and tower crane.  
Work hours: 7/24/18: 5:00 a.m.-5:30 pm
Sidewalk closure: The sidewalk on the westside of 12th Ave NE between NE 65th and NE 68th Street will continue to be closed.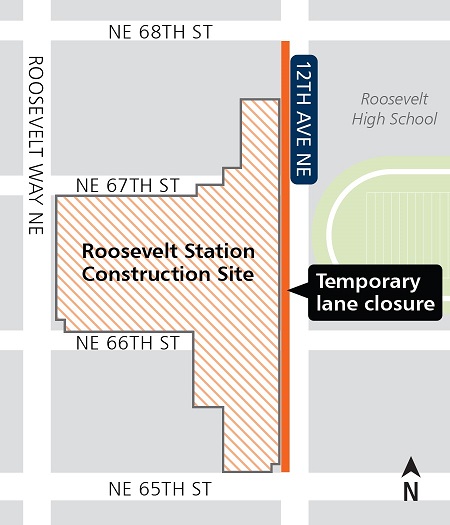 The Northgate Link Extension is a key part of Sound Transit's regional system expansion. Approved by voters in 2008, the 4.3-mile light rail extension includes stations in the University District, Roosevelt and Northgate neighborhoods. 
For construction issues that need immediate attention after normal business hours, call Sound Transit's 24-hour Construction Hotline at 888-298-2395.