Monday, August 25: Northeast 43rd Street sidewalk to close between Brooklyn Avenue Northeast and the alley
Body
Construction crews building the U District Station will be taking down the scaffolding along Northeast 43rd Street between Brooklyn Avenue Northeast and the alley west of University Way Northeast on Monday, August 25. This work will require crews to temporarily close the sidewalk along this block of Northeast 43rd Street. 
Pedestrian Detours
While the sidewalk is closed, pedestrians may use the following detours to get around construction: 
University Way Northeast (the "Ave")

Northeast 42nd Street

Northeast 45th Street

2th Avenue Northeast 
The sidewalks along Northeast 43rd Street between the alley and University Way Northeast (the "Ave") will be open. The Ugly Mug Café will be open during this work.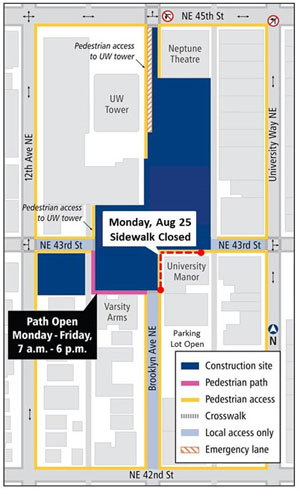 U District Station
The U District Station is under construction on Brooklyn Avenue Northeast between Northeast 45th and Northeast 43rd streets. The station is part of the future 4.3-mile Northgate Link Extension connecting Northgate, Roosevelt, and U District neighborhoods to downtown Seattle and Sea-Tac Airport.