Tacoma Link is coming!
Body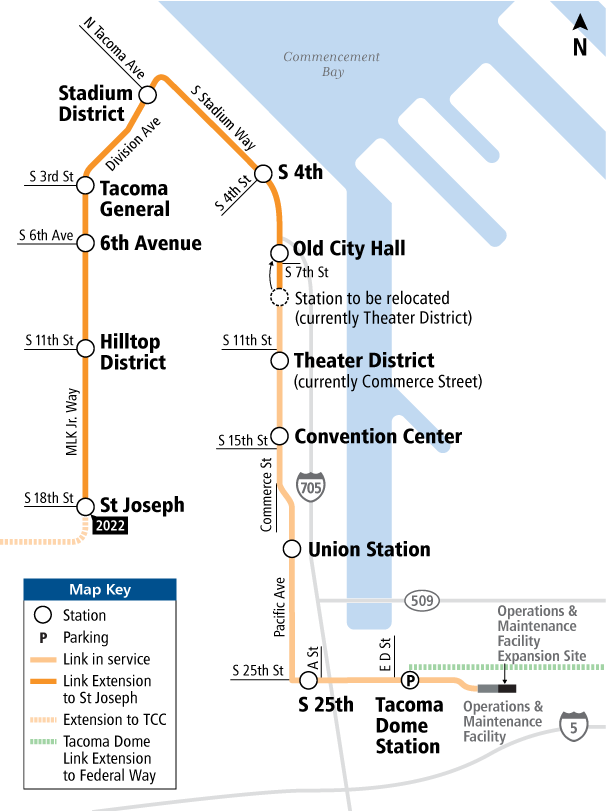 Sound Transit is excited to share news that the Tacoma Link Extension will start construction as early as Fall 2018! By 2022, the 2.4-mile extension will continue north along Commerce Street to the Stadium and Hilltop districts.
We wrapped up 2017 by hosting an online and in-person open house to share the final design of the Tacoma Link Extension tracks, platforms and approved station names. Renderings offered a glimpse of what the completed Operations and Maintenance Facility will look like on East 25th Street. We also provided some early construction information. See project renderings from our November 2017 open house.
Where are we now in the project phase?
We have reached final design and are in the Pre-construction Phase. Construction work will begin in the third quarter of 2018. Once we have the construction contractor's construction schedule, we'll let businesses and residents know when they can expect construction to begin along the Tacoma Link Extension route. We will also organize a series of construction meetings inviting community members to listen to progress updates, learn about construction impacts and ask questions to the project team.
Our commitment
The role of Sound Transit Community Outreach is to keep the public informed and engaged, while minimizing the impacts of construction. Sound Transit staffs community events and holds project meetings, briefings and drop-in sessions. We have a 24-hour construction hotline and provide advanced notice of construction work and impacts happening in your neighborhood.
Stay informed
Stay tuned for project updates, and subscribe to our project email list by visiting soundtransit.org/subscribe. Other ways we'll keep you informed include:
Project e-newsletters and construction alerts
Drop-ins to share direct construction impact information
Project briefings by request
Construction open house
Local community events
Staffing at City of Tacoma Links to Opportunity project office:

Location: 1120 S. 11th Street
Monday through Friday: 9 a.m.-1 p.m. and 2-4 p.m.

24-hour construction hotline: (888) 298-2395