Utility relocation in Northgate to continue through summer
Body
Intermittent night work continues as crews relocate utilities along First Avenue NE ahead of Northgate Station and guideway construction. This summer, the work area will shift south on First Avenue NE.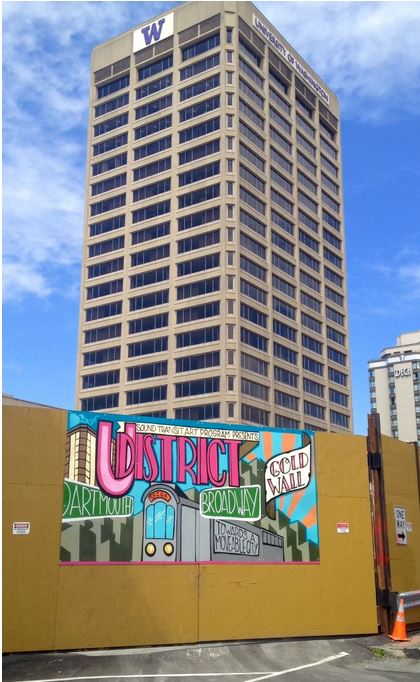 Photo Caption: Sound Transit's temporary art program is under way at the U District Station construction site. The first two works of art were installed on the gold construction wall on Friday, May 15. Additional artwork will be installed at the U District and Roosevelt station sites in the coming months.
Tunneling update
Tunnel boring machine Brenda successfully re-launched from the Roosevelt Station site on its way to building the future northbound tunnel from U District Station. Brenda is currently just south of NE 62nd Street and should arrive at the U District Station site by fall. TBM Pamela is building the southbound tunnel. It's now just south of NE 75th Street along Banner Place NE. Pamela is expected to arrive at the Roosevelt site this summer.
Where can you find Sound Transit staff this month?
Sound Transit plans to attend several community events this spring and summer. Stop by to ask questions or get project information at the following event in June:
Roosevelt progress update drop-in meeting
Tuesday, June 2
4-6 p.m.
Roosevelt Station viewing windows on the sidewalk at the northwest corner of N.E. 65th Street and 12th Avenue N.E.