Utility work alert: Full intersection closure at NE Spring Blvd and 136th Pl NE as early as Thursday, June 25
Body
Sound Transit's contractor will require a full intersection closure at NE Spring Blvd and 136th Pl NE in Bel-Red beginning as early as Thursday, June 25, 2015. Once the closure is in place, the intersection is anticipated to be closed for approximately two weeks. During this time, Sound Transit's contractor will conduct archaeological survey work in preparation for Olympic Pipeline Company's (OPLC) advanced utility relocation work in the same area this summer.
What to expect:
Full intersection closure for approximately two weeks during survey work. 
Access to driveways will be maintained at all times.
Saw cutting pavement will create intermittent noise.
The work site will be safe and secure at all times.
Additional intersection closures will be necessary during OPLC's advanced utility relocation work.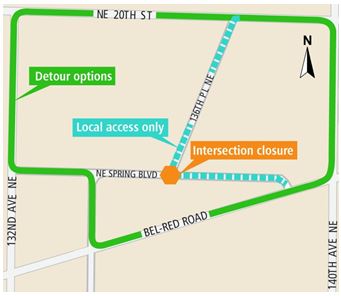 Sound Transit's advanced utility work in the roadway is one of a series of advanced utility relocations in Bel-Red by Sound Transit and multiple utility providers as Sound Transit prepares for East Link construction. Sound Transit's work in the roadway will be followed by OPLC's utility relocation in this area beginning this summer and lasting approximately through December 2015. OPLC's utility work will require work in the roadway and associated closures. Other utility providers performing relocations in Bel-Red include Puget Sound Energy and various telecommunications companies.
Your service provider will notify you directly of work affecting your property.
For more information
Contact Sound Transit community outreach - at 206-398-LINK or eastlink@soundtransit.org
For issues that need immediate attention after normal business hours, call Sound Transit's 24-hour Construction Hotline at (888) 298-2395.