Light rail is coming to Northgate in 2021
The Northgate Link Extension adds three new Link light rail stations at Northgate, Roosevelt and the U District. When these new stations open in 2021, people will be able to connect to Link at Northgate and enjoy fast, reliable service to downtown Seattle, the University of Washington, Sea-Tac Airport and many more destinations around the region.
Routes 510, 511, 512 and 513
In late 2019, Sound Transit and Community Transit asked riders to weigh in on our ideas to reroute some buses and connect Snohomish County riders to Link light rail at Northgate starting in 2021.
Thank you for visiting the Link Connections: Northgate project page. Our survey to gather your feedback on Community Transit and Sound Transit's service proposal closed on June 4. Please visit the Service Implementation Page for more information about what Sound Transit's service plan looks like for 2021.
What we heard during phase 1 outreach:
Many riders are willing to transfer from bus to light rail to improve the speed and reliability of their commute.
Riders want more frequent bus service to reduce transfer times at Northgate.
Riders want more options to reach their destinations.
Our service proposal:
Increases trip frequency and includes longer operating hours for select routes, especially in the evening.
Offers more choices for riders: to transfer to light rail at Northgate or continue to downtown Seattle by bus.
Sound Transit 510 series:
Maintaining direct bus service from Everett to downtown Seattle via ST Express Route 510 and Sounder North service; routes 511, 512 and 513 will connect to Link at Northgate instead.
Community Transit 400 and 800 series:
400 series bus routes will maintain direct service to downtown Seattle.
Routes 810, 821, 860, 871 and 880 will connect to Link at Northgate; Route 821 service will replace Route 855 at Lynnwood Transit Center.
Route 522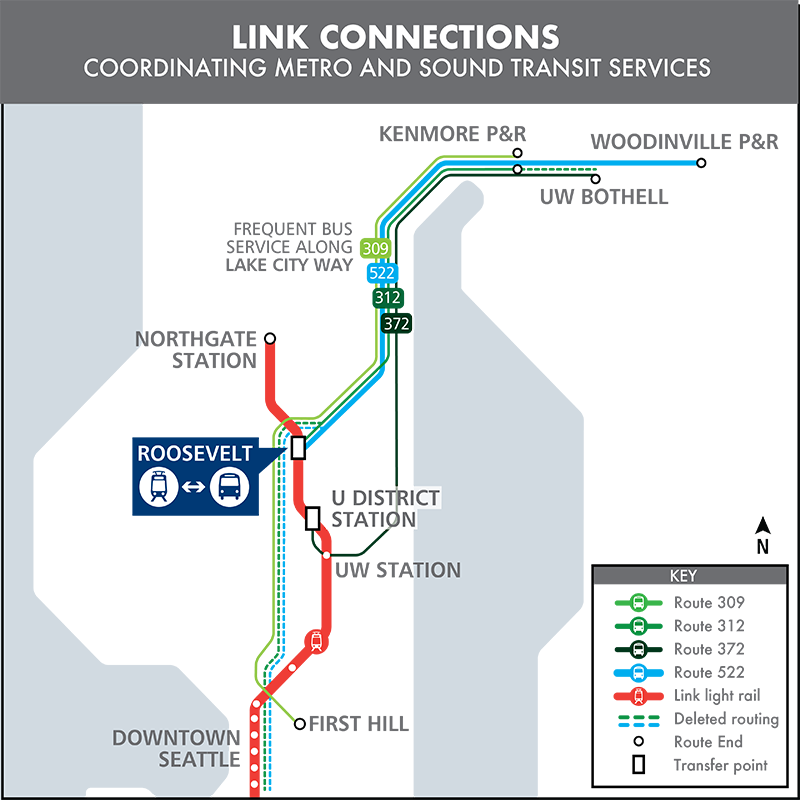 Sound Transit and King County Metro are working together to adjust bus routes so that North King County residents can take advantage of this new transit option. Our ideas include ending some bus routes at the Northgate, Roosevelt or U District stations, where riders could transfer to Link. We're receptive to feedback, and there's room for change as we design routes.
Our ultimate goal is to develop a service plan in partnership with King County Metro to consistently connect riders to Link, provide new connections and add additional evening and weekend service.
Metro's most recent comment period closed on Tuesday, April 7. Both agencies will now refine the network concept into a final proposal, which we expect to share with you by the end of 2020.