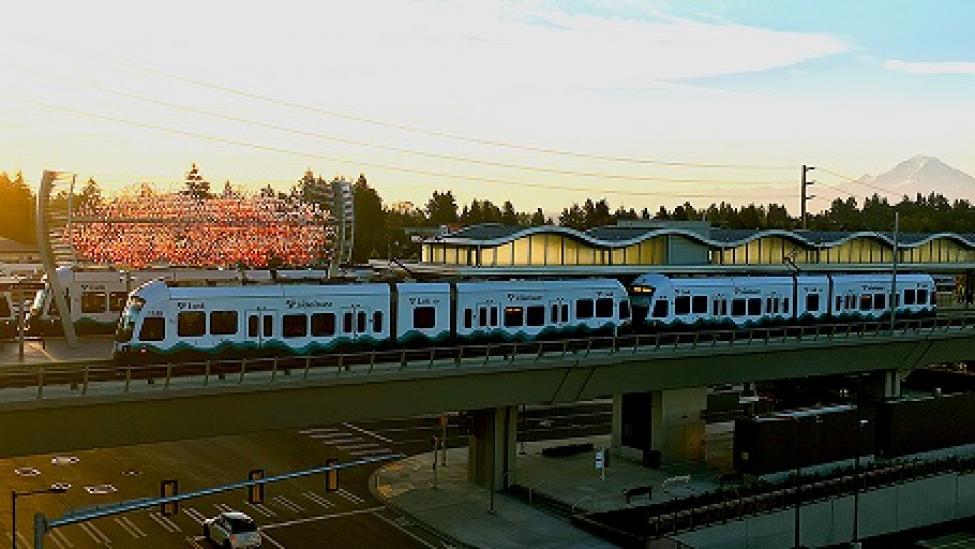 Gold medal for Angle Lake Station
Body
Sound Transit's Angle Lake Station recently became the first light rail station in the Northwest to win Gold certification from Leadership Energy and Environmental Design (LEED), the most widely used sustainability rating system in the world.
From its platform-level unobstructed views of mountains and Puget Sound to the 60-panel, 14-kilowatt solar array overhead, the station that opened last September in the City of SeaTac embodies its theme "Environment in Motion." Built to incorporate regionally produced and recycled, nontoxic materials, including rock wool and cellular glass insulations, the elevated station features a guideway, garage, pedestrian plaza and areas for facility management, maintenance and transit driver breaks.
"The Angle Lake Station exemplifies the creative ways in which transit facilities can function as sustainable resources in their communities," said Peter Rogoff, Sound Transit Chief Executive Officer. "Achieving LEED Gold status for our newest Link station is a testament to Sound Transit's commitment to use taxpayer dollars to design and build facilities that contribute to the health of our environment here in the Puget Sound region."
In addition to canopy solar panels that provide up to 18,000 kilowatt hours of power per year, contractors incorporated escalators that power down to a crawl to save energy when not in use. A 50-kilowatt solar power system provides weather protection leading to the garage. The station's sustainable features include:
A low-maintenance blue aluminum façade that appears to change and flow as one moves around the garage.
LED lighting throughout the facility.
Harvested rainwater that provides 100 percent of station-area irrigation.
Four charging stations in the garage for electric vehicles.
Onsite storage for 52 bicycles.
"We are grateful for the riders coming through the Angle Lake Station and hope they enjoy the beauty of the station's location as well as its green features," said Sustainability Manager Amy Shatzkin. "It's important to note, every time they choose transit, they are helping reduce air pollutant emissions and improve the environment for us all."
Public art at Angle Lake further reflects an environment in motion. Laura Haddad's "Cloud" sculpture, made of 6,000 eco-resin disks that glimmer with variations in sunlight and wind, hangs above the train platform as a prominent visual element of the station.
The artwork illuminates in changing colors at night. Above the grand open staircase leading from the plaza to the garage, artist Jill Anholt's "Immerse" sculpture appears to hang weightlessly in three delicate arcs that transfer and filter light into a parking area below.
Innovative design-build construction approach
The Angle Lake Station is the first design-build project completed by Sound Transit. The team included PCL Civil Constructors Inc. with HDR, Inc. and VIA Architecture to design and construct the aerial station and guideway; joint venture Harbor Pacific Graham, along with Berger ABAM and Brooks + Scarpa, to design and build the plaza and garage. Parsons Brinkerhoff provided project management and Huitt Zollers provided pre-design and design services. Johansen Excavating Inc. received the public bid to construct roadway improvements.