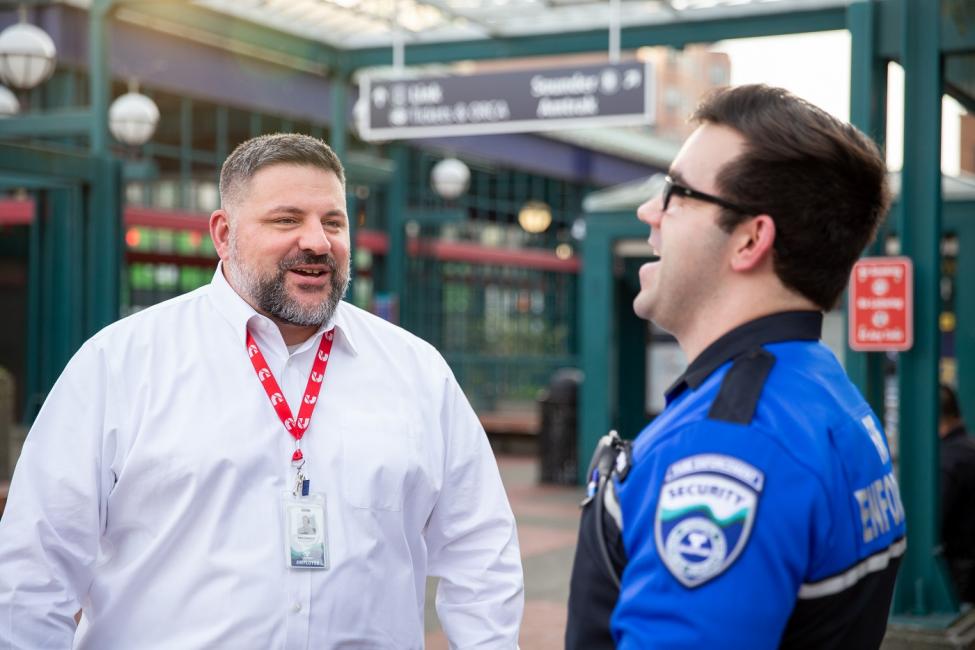 Inside Sound Transit: Safety with a smile
Body
For this month's installment of "Inside Sound Transit" we introduce the affable, handy and self-deprecating Ken Cummins, Sound Transit's Director of Public Safety.
It's the latest in our regular series introducing you to the people who work here at Sound Transit trying to make it easier for you to get to where you work, live and play every day.
The 43-year-old Kent Meridian High School graduate, Marine Corps and Washington National Guard veteran joined Sound Transit in 2005 as a Security Specialist. Aside from a deployment to Iraq with the National Guard in 2008, he's been with Sound Transit ever since and today oversees the agency's Emergency Management, Fare Enforcement, Security and Police programs.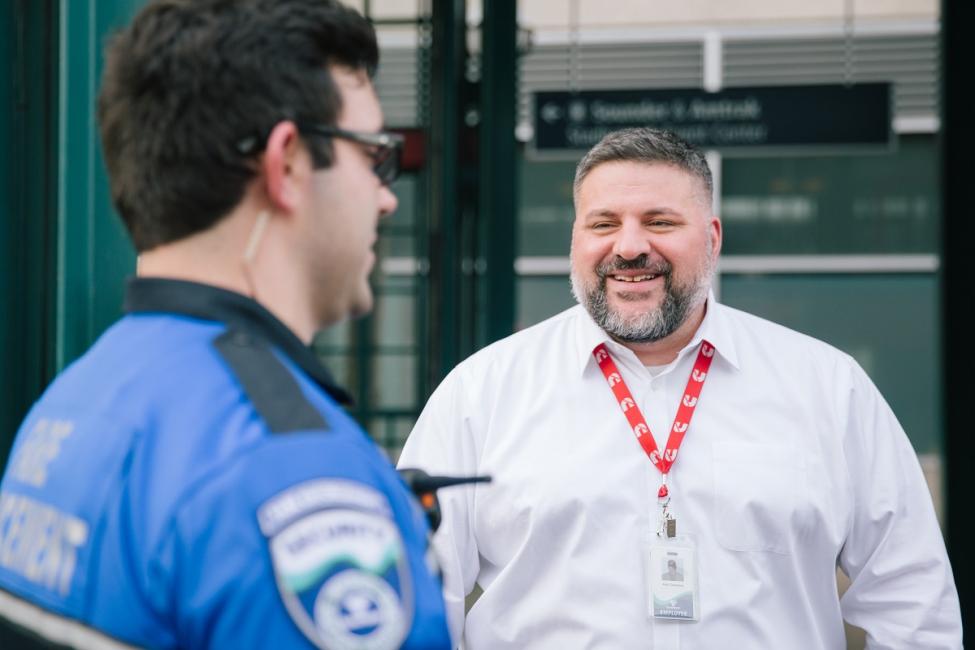 Q: What do you tell your friends you do for work?
A: When people find out I work for Sound Transit ask me what I do, I generally reply with "I am responsible for checking the air pressure in the tires for both the Sounder Train and our light rail vehicles." Or, "I personally collect the car tab fees from the Department of Licensing."
After the entertaining observations of their reactions, I tell them the truth – which I am the Director of Public Safety.
I am responsible for all the law enforcement, security, fare enforcement and emergency management functions of the agency.
Ironically, the checking of the air pressure in train tires seems to be more believable.
Q: What's your passion outside of your job?
A: Most of my time lately has been spent remodeling a house that I am going to be putting up on the market - doing a significant amount of upgrades and replacements of doors, floors, lights, plumbing, trim work and appliances. That remodel has become that never ending project.
I am an avid reader – I generally have between three and five books going at any given time. I am currently reading "Hero The Life and Legend of Lawrence of Arabia" by Michael Korda, "Pre-Suasion" by Robert Cialdini, "Shogun" by James Clavell, and "Pimp" by Iceberg Slim. I also have another three books ready to begin.
Also, I have two awesome teenage daughters at home, which I should spend more time with but am getting better at that. My daughters and I communicate almost exclusively through the use of puns and memes. August through December you can find me at most of the Seahawks home games despite being a Chicago Bears fan.
Q: What attracted you to work at Sound Transit?
A: I came to Sound Transit 13 years ago - I cannot remember what it was that attracted me to apply with Sound Transit.
I can say what has gotten me to stay all these 13 years. Sound Transit has some of the most talented people throughout the organization that you can find anywhere.
In particular, I enjoy the fact that I am the least intelligent person in the room when I attend one of my own staff meetings.
Outside of the dedicated employees that make up our dynamic agency, what keeps me at Sound Transit is the work itself.
I enjoy that we are still a relatively young agency with opportunities to create and grow different projects and programs versus a more mature agency with a long history of "that is the way we have always done it around here."
The things we are collectively accomplishing are and will continue to be a physical monument to the betterment that we are making in the lives and prosperity of the citizens and visitors to our communities throughout the region now and far into the future.
The impact that we are making now will last far beyond our individual careers and even our lifetimes. Not many people truly can say that when they look back on their lives.
Q: How do you get to work?
A: I drive my very large truck to the South Hill Parking and Ride, where I take the 580 bus to the Puyallup Sounder Station and then Sounder to King Street Station."
Q: What three things would you take with you to a desert island?
A: It would really depend on how long I would be there.
If I was going to remain there forever then I would bring:
A mechanism to clearly define the borders of my island.

A framework for government

A letter petitioning the Secretary General of the United Nations for admittance as sovereign nation.  
If it was only going to be for a short stint: beer, a book, and a boat.