As we celebrate the 20th anniversary of Sounder South on Sept. 18, let's meet one of the Sound Transit employees who's been instrumental in the history of that service, and in our agency as a whole.
Melissa Flores Saxe is one of 23 original staff members at Sound Transit, starting at the agency on Jan. 1, 1997. She currently serves as the Sounder South Project Development Director.
Saxe is this month's "Inside Sound Transit" guest. It's our regular feature introducing you to the people working to make it easier to get to where you live, work and play – a job she's been doing for almost 30 years!
She's dedicated to ensuring that Sound Transit and our passengers get the best results our projects. She takes pride in her work. She's collaborative, and a well-respected team leader.
After graduating from the University of Washington in 1991, Saxe started her career at King County Metro as a project team member for the King County's Regional Transit Project Division, helping to plan the Sound Move measure that was approved by voters in 1996.
Since its adoption, Sound Transit has been fulfilling the promises made in Sound Move, while also making changes and adjustments to better fit with the Puget Sound region as it evolves. We sure have come a long way since then!
Share your Sounder memories for a chance to win a commemorative ORCA card.
Saxe joined the Sounder program in September 1997 as a Project Assistant, for the excitement and challenge of working on capital projects. She also knew then that she wanted to pursue a career in project management.
Her mentor, Val Batey, said Saxe is "a creative problem-solver and has taken the initiative to get extensive training in project management, transportation planning and all things commuter rail."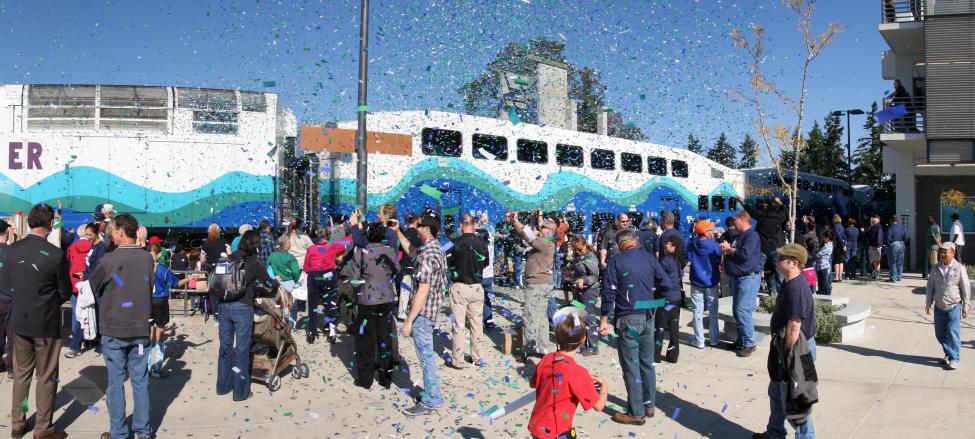 Q: What do you tell your friends you do for work?
A: I'm a Project Development Director in the Planning, Environmental & Project Development Department. I manage the project development phases of capital projects for the Sounder South program. I have to admit I still don't think my family or close friends really understand what I do for Sound Transit. They are happy to know I help build transportation projects for the region.
Q: What's your passion outside of your job?
A: I love to spend my time with family and friends in-person (e.g. eating meals together, parties, shopping or traveling together). I really do miss seeing them during these unprecedented times.
I also love traveling! I first rode on a plane when I was six months old. I love to travel within Washington, the United States and overseas. It's an opportunity to learn different cultures and meet new people. I've traveled to India, Japan, Mexico and Europe.
Q: What attracted you to work at Sound Transit?
A: I think my answer is to the question, why have I stayed at Sound Transit for so long? I've been officially with Sound Transit for nearly 24 years and nearly 29 years working on the regional mass transit system. I enjoy working on capital projects. My mantra is every day is a new day at Sound Transit. I learned all aspects of planning, designing, constructing and operating Sounder systems and facilities. I enjoy the learning curve and Sound Transit has provided me that educational experience in all aspects of implementing a new capital project. I also enjoy working with the smart and talented staff here at Sound Transit!
Q: How do you get to work?
A: Before COVID-19, I drove to the Eastgate Transit Center then hopped on the KCM 212 or ST Express 554 bus to Seattle. The commuter bus service from Bellevue is great!
Q: What three things would you take with you to a desert island (besides food and water)?
A: A phone so I can FaceTime with family and friends and can the internet for news and travel websites. An RV that has a bed, kitchen and bathroom. And a computer to write about my island adventures.