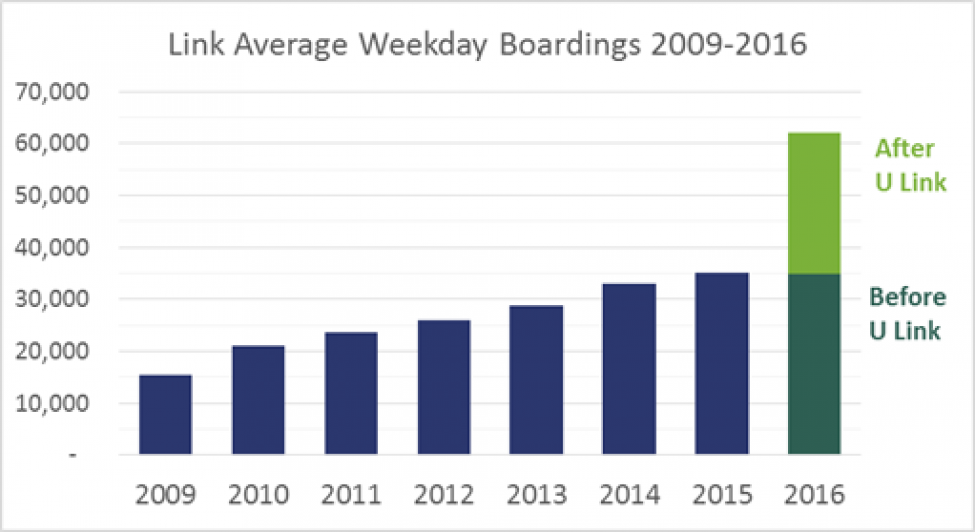 Link light rail celebrates seventh anniversary amid record-breaking ridership surge
Body
Link sails into its eighth year of service in 2016 with 83% ridership growth over previous year
Sound Transit's Link light rail enters its eighth year of service amid record-breaking ridership growth following the March 2016 opening of new stations serving Seattle's Capitol Hill and University of Washington areas.
Ridership numbers for May 2016 show an increase of 83 percent above the same month the year before--averaging 65,409 in weekday boardings--and 430 percent growth over fourth quarter 2009 following the July 18, 2009, opening of light rail. Ridership reports are available here.
Link by the numbers (as of July 2016):
64.4 million: Estimated total lifetime ridership through May 2016
82,600: Highest ridership day of regular service on April 8, 2016
65,409: Average weekday ridership for May 2016
In September 2016, Sound Transit opened the 1.6-mile light rail extension from SeaTac/Airport Station to Angle Lake Station at South 200th Street in SeaTac.
The final Northgate Link tunnel segment that will extend light rail service 4.3 miles north from the University of Washington Station at Husky Stadium to the U District, Roosevelt neighborhood and Northgate Mall is scheduled to open in 2021.
In 2023, Sound Transit is on track to operate nearly 50 miles of light rail lines extending to Lynnwood in the north, Bellevue and Redmond's Overlake area to the east and the Kent/Des Moines area in the south. Contractors have begun East Link construction in downtown Bellevue and the light rail extension to Lynnwood is in final design.