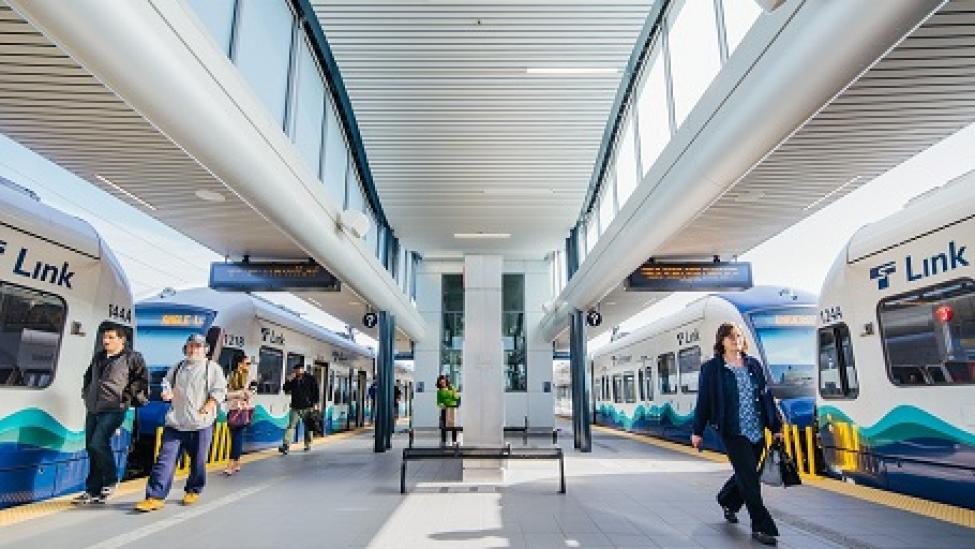 May madness: Link light rail sets new weekday ridership records
Body
For the first time in Sound Transit's history, Link light rail weekday average ridership topped 80,000 boardings for an entire month.
The May ridership numbers were presented to the Board of Directors today, a day after Link celebrated nine years of service since opening on July 18, 2009. 
We estimate Link averaged about 81,000 riders on weekdays in May - a notable 10.8 percent increase over May 2017's daily weekday average of about 73,000 daily boardings.
This Guinness-Book-of-Sound-Transit-Records moment also represented a 9.3 percent increase over April 2018, when the weekday average was about 74,000.
We typically see ridership start to climb in the spring and summer months (tourist season and summer events help explain the uptick), but the whopping > 80,000 milestone had us looking to the hard data for answers. Here's what we know, along with some theories and best guesses. 
The Mariners factor
Our two biggest ridership days, May 18 and May 4, which topped 90,000, coincided with Friday evening Mariners games at Safeco. Safeco is accessible from our Pioneer Square, International District, Stadium, and SoDo Stations. (The Mariners beat Detroit on the 18th, but lost to LA on the 4th, by the way.)
The May 4 game drew more than 40,000 fans to Safeco, the biggest crowd since Opening Day back on March 29. Fridays are generally our busiest weekdays with or without special events.
There are two reasons Mariners fans may have been riding light rail even more than usual this spring and causing a Mariners' effect.
First, as opposed to previous years, the Mariners are contenders.  As of this blog post, the Mariners are 58-39 for 2nd place in the AL West and 4th in the American League overall. 
Second, the Mariners partnered with Sound Transit during the first half of the season to provide free light rail trips for fans; Mariners tickets doubled as Link light rail tickets.
The program definitely worked.
Our 2017 counts estimated that about 5 percent of people attending games at Safeco Field took light rail. Our modeling predicted that would jump to about 5.6 percent under the free ride program.
However, our sample counts showed it ended up being closer to 7 percent—a 37 percent increase.
That's not evidence of raw ridership increase, but it certainly indicates an energized connection between light rail and Safeco Field.  
The Taylor Swift factor
That's right, our third biggest day in May with almost 90,000 estimated boardings came on Tuesday, May 22 - the same day pop superstar Taylor Swift performed at a sold-out Century Link Field to 56,000 fans.
It turns out a swift, traffic-free ride on mass transit was tailor made for concertgoers.
However, we're not willing to give the Mariners and Ms. Swift all the credit.
For starters, take those special events out of the mix and we still hit more than 79,000 average weekday ridership, a hardy 8.2 percent jump over May 2017.
More important, it's kind of a chicken-and-egg question.
You wouldn't have tens of thousands of people going to concerts and ball games via light rail if there wasn't any light rail to begin with.
In other words, mass transit has become an integral part of how people go about their lives in our region.
This is exactly the way mass transit is supposed to work; it's supposed to give people an alternative to schlepping around in their cars. It's why voters demanded it in the first place - and are now using it in record numbers.  
The changing nature and rhythm of life in Puget Sound is definitely behind other possible explanations for our record-setting month. Straying from the hard data, our well-informed planning department had some had some compelling theories.  
In additions to the Mariners (something our planning folks also theorized as a possible explanation for our big numbers), there are some clear regional trends that likely contributed to our monster May: job growth; housing development near light rail; a tourism boom; and Seattle's higher cost of living.   
Booming economy
Job growth in the region, fueled by Amazon, is boosting our population to record heights.
The latest data shows that between April 2016 and April 2017, population increased 2.1 percent in Puget Sound by nearly 82,000 residents.
Most of that growth came in King County's urban core; Seattle added 26,900 residents, topping out at more than 700,000 for the first time at 713,700 residents.
It's a trend we're all familiar with; the Puget Sound Regional Council says the region is on pace to add 1.8 million more residents by 2040 and 1.2 million new jobs - 42 percent and 36 percent increases respectively. 
And Commute Seattle reports that since 2010, only 5 percent of new downtown commuters are driving alone. The other 95 percent are taking transit, rideshare, walking or cycling.
More housing near light rail stations
Policy geeks call it Transit Oriented Development - new housing has taken root near light rail stations throughout the Rainier Valley and Beacon Hill. 
Watch for this housing trend to continue.
In June, developers broke ground on a transit oriented development project around our Capitol Hill station (428 apartments, including 178 affordable apartments), and developers are ready to go on a 245-apartment complex next to Roosevelt Station.  The apartments and Roosevelt Station will open in 2021 and 100 percent of the new apartments will be affordable.
Booming tourism industry
As Seattle's tourist industry booms, we're not surprised to see our ridership numbers jump as tourism season began in the spring.
Visit Seattle reported nearly 40 million visitors in 2017, a 2.6 percent increase over 2016 and nearly 21 million overnight visitors, a 3.9 percent increase over 2016.
With our airport to downtown connection bringing people to hotels and the cruise terminal where the industry's new and bigger cruise ships are docked, this seasonal ridership trend will likely continue.
Rising costs of living in Seattle
Seattle's higher cost of living may also be pushing ridership numbers up.
It's not that people are giving up their cars necessarily, it's that more people, particularly students and lower-wage workers, are moving to south Seattle and south King County areas like Tukwila where housing is cheaper - while still working and going to school in the central city and the University of Washington.
With more people concentrated in the south, where Sound Transit offers direct light rail connections to downtown, Seattle Central Community College, and the UW, it's not surprising we're seeing more ridership.
Those are the theories we have about May's record-setting number for Link light rail weekday ridership.
Fact: Link makes it easier to get around
Now, here's what we know for a fact: The estimated 81,000 average weekday riders on our trains were getting to work and school and going out and going to see friends and getting to the airport (and seeing the Mariners win Taylor Swift kill it) without getting stuck in traffic or having to worry about parking.