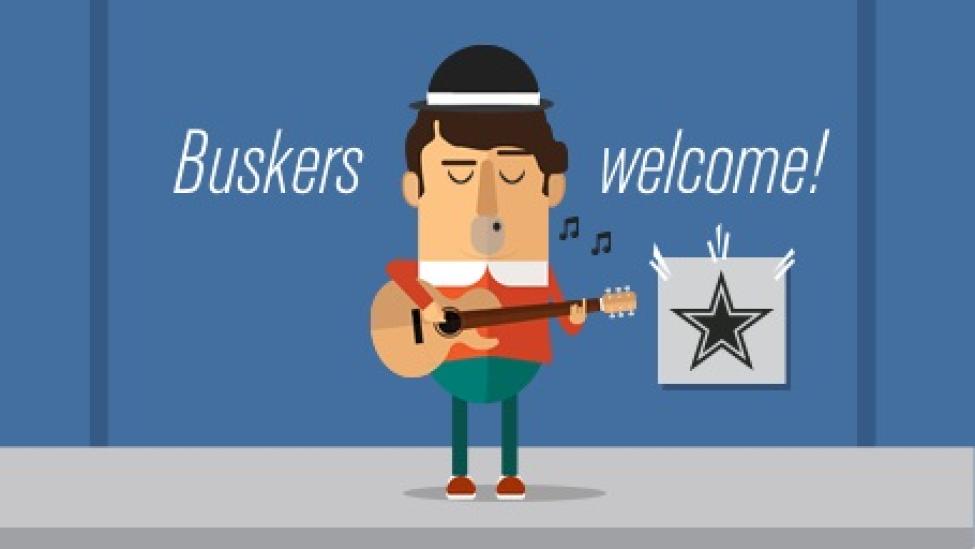 Name that tune: new busking areas at six light rail stations
Body
Sound Transit has expanded its busker program from a pilot project at the University of Washington and Capitol Hill Link light rail stations to include Beacon Hill, Mount Baker, Columbia City, Othello, Tukwila International Boulevard and Angle Lake. Busker is an English term for street performers who play for free and/or donations. 
During the pilot, buskers—who are often professionals, teachers and students—told Sound Transit they'd like more opportunities to perform and entertain at transit stations. According to an online survey, many transit riders find buskers a welcome presence.
"The buskers are great," wrote one respondent in the survey. "They make the station feel more like a destination and not just a place to pass through. Keep on supporting them."
In the past, Sound Transit only allowed busking outside Link light rail stations; for congestion and safety reasons, buskers could not perform inside stations or on platforms. Feedback from performers led to research, completed in 2013, into busking practices at other transit agencies, including the Metropolitan Transportation Authority in New York, King County Metro, Metro Vancouver's TransLink, Calgary Transit and the Bay Area's BART. In conjunction with Sound Transit Security and external stakeholders such as the Seattle Music Commission and Seattle Department of Transportation, Sound Transit developed a new set of guidelines and launched the pilot program that ran from September 2016 through February 2017.
"Our goal is to create a welcoming experience for light rail riders," said Sound Transit Chief Executive Officer Peter Rogoff. "By providing opportunities for street musicians to perform at more stations, we help support the unique character of those neighborhoods served by Link."
During the pilot, the maximum number of street performers in a group was three. The expanded program enables as many as five performers at a time, and perhaps more if previously approved by Sound Transit.
Similar to the sidewalk music notes in the Pike Place Market, Sound Transit has installed stainless steel stars in areas where busking is OK – areas that do not impede passenger flow through the stations. Buskers cannot use amplification nor props or devices that could pose safety risks to the public, such as fire or knives. Because buskers tend to draw crowds, Sound Transit prohibits busking during high-ridership special events, such as University of Washington Husky Football games or graduation. For more information and pictures of approved performance sites at each station, see Busker Guidelines on the Sound Transit website.