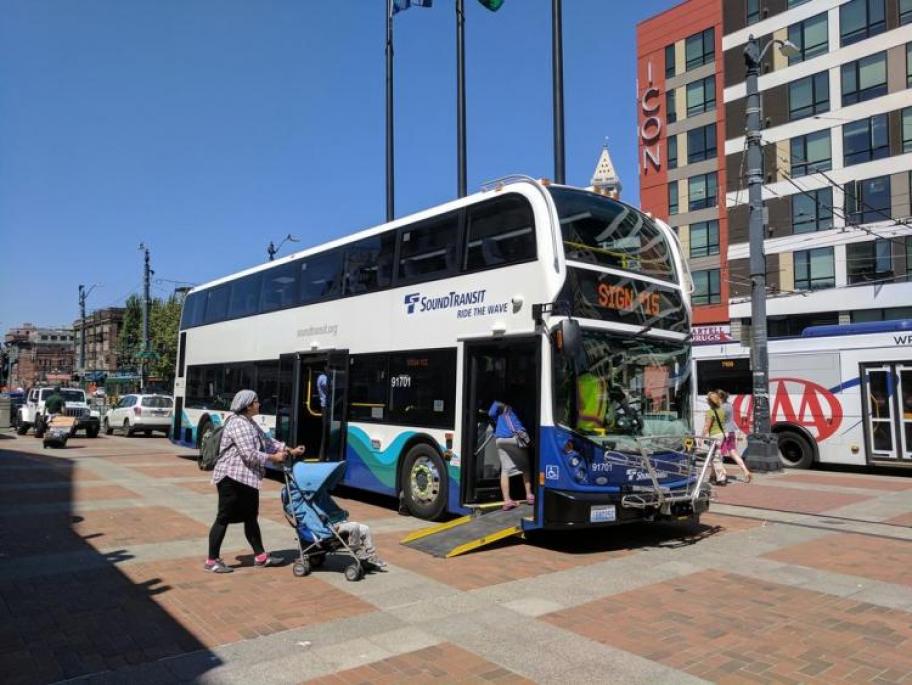 New double decker buses have arrived to carry more people with better views
Body
Folks in the International District/Chinatown area today got a sneak peak at Sound Transit's new double decker buses in front of Union Station for the public to tour. The bus is one of a 32-bus order that the Sound Transit Board approved last July and is now in the process of being delivered. All 32 new double deckers should be in service by early next year. 
These buses will be used on Community Transit‒operated ST Express routes running between Snohomish County and Seattle and the East Side. By late 2017 we will have a total of 37 double deckers at Community Transit, along with eight 40-foot buses and sixteen 60-foot articulated buses. Double decker buses are a cost effective way to add capacity, providing 40% more passenger seating than an articulated bus (81 seats vs. 56), and in a smaller footprint!
Currently Community Transit is the only partner agency equipped to operate and maintain double deck buses, so double deckers will be limited to the 510, 511, 512, 513 routes serving the I-5 corridor between Everett and Seattle. Early next year we will introduce double decker service on Routes 532 and 535, bringing more capacity to the congested I-405 corridor between Everett, Lynnwood and Bellevue. 
Enjoy the view!