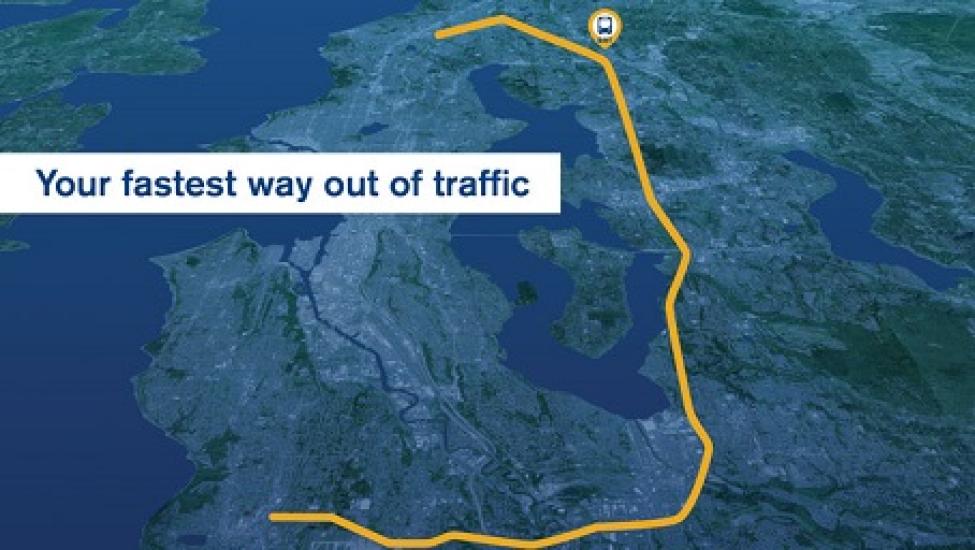 For the record: Kirkland bus rapid transit stop is one piece of an integrated system
Body
In 2024, people living and working in communities north, east and south of Lake Washington will have a new transit alternative to sitting in crippling traffic around these rapidly growing areas.
Sound Transit is introducing bus rapid transit (BRT), a new high-capacity transit mode that will provide fast, frequent and reliable service on the highly congested I-405 and SR 518 corridor, and on SR 522 and Northeast 145th Street.
The Seattle Times recently published a story about planning for BRT investments at Northeast 85th Street in Kirkland, calling into question the value of this new station. While the story was accurate and informative in many respects, it downplayed the fact that interchange investments will serve riders from across the entire BRT system.
The investments are not only about Kirkland riders, but also about moving more people throughout our fast-growing region.
The key to providing reliable service as often as every 10 minutes is enabling BRT vehicles to bypass rising congestion.
I-405 BRT will build upon WSDOT's roadway improvements to facilitate faster travel. 
Sound Transit has been working closely with WSDOT in the development of BRT as part of the I-405 Master Plan, approved in 2002.
Since then, WSDOT has worked with cities, counties, federal agencies, transit agencies and community groups to develop consensus on a long-term vision for the multimodal redevelopment of this highway.
In addition to expansion of the express toll lanes, one of the improvements along I-405 is the redesigned interchange at Northeast 85th Street in Kirkland, which will include a new BRT freeway station and direct-access ramps to the express toll lanes.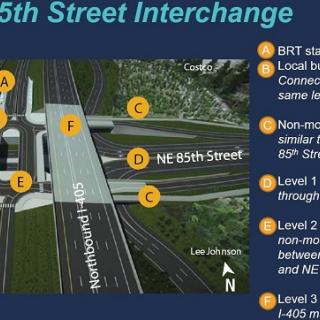 The voter-approved ST3 plan includes a BRT stop in Kirkland. This station supports Kirkland's future planned growth east of I-405 and supports multi-modal connections to employment and housing centers in Kirkland and Redmond.
A freeway station at Northeast 85th Street will also help maintain BRT system-wide speed and reliability by allowing buses to serve the stop without merging to the general-purpose lanes and reentering the freeway to merge back to the express toll lanes.
When BRT is operational in 2024, a trip between Lynnwood and Bellevue that today takes 61 minutes will take 42 minutes; the 48-minute trip between Bellevue and south Renton will take 24 minutes; and the trip between south Renton and Burien will fall from 31 to 21 minutes. Improvements all along the BRT route will make these faster trips possible.
Sound Transit is partnering with Kirkland and communities all along the corridor to ensure BRT will effectively serve their riders, whether they are commuting to work or visiting neighboring cities.
An extensive public outreach program, which includes public meetings and online engagement, is currently underway to provide people with opportunities to help refine the project. Sound Transit encourages community members to get involved and learn more about BRT on I-405. 
With connections to Link light rail and other local and regional transit services, BRT will benefit riders throughout the region who will be able to access the system at many locations and travel quickly and reliably to employment centers and growing communities around Lake Washington.
While every station will provide an important connection, the value of BRT is in the sum of its parts.