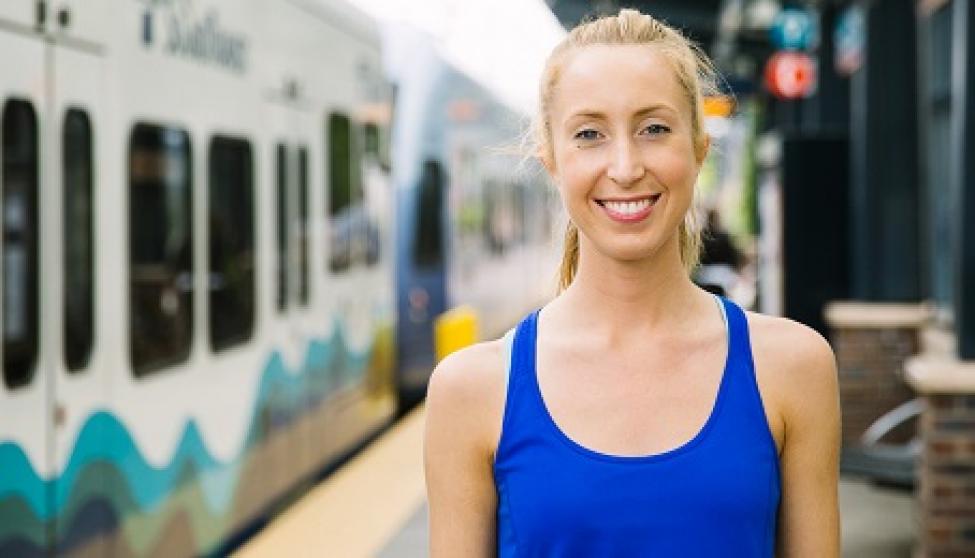 Transit running: using trains and buses to go farther
Body
Laura Goodfellow has a goal to run all 3,946 miles of Seattle's paved streets. Local buses and trains are the keys to her success.
The 26-year-old software developer moved to Seattle five years ago and currently lives downtown because of its excellent access to buses and trains. She has no car.
Transit has made a big city smaller and her world bigger at the same time.
 "For me, transit has given me a sense of freedom I don't think I'd have otherwise," she said. "It's about the freedom to go places I might not normally see or think about."
The 11-time marathon runner started combining transit and running early last year by taking Link light rail to Columbia City to run back downtown.  
She hasn't looked back since.
"The more I used transit, the more I realized not only do I use it, but it's something that I really value," she said.
Today, most of her training runs involve transit, which she regularly shares via Twitter @transitrunner.
The interest in her Twitter feed inspired her to start a new Seattle Transit-Oriented Runner group on Facebook that now has 55 members. Goodfellow says about a dozen or so usually show up for regular transit-oriented runs.
Planning runs using transit gives her training more variety than it would normally entail. By using the bus or train to get to her starting point, she's not tied to the same routes near her home and someone else can wrestle with traffic.
"Point to point running just gives you more options," she said.
The Dartmouth grad grew up in the suburbs of Richmond Va., which had stiflingly few transit options at the time.
"When you live somewhere that you have to depend on a car and you don't always have access to one, you can feel trapped," she said.
That's certainly not the case anymore. Her favorite route combining transit and running was a nearly 68-mile highlight reel of the area. 
Here's the trip:
Goodfellow says that 68-mile-trip only involved about 16 miles of running. Google wouldn't allow the combining all the different trip modes from that adventure into one map, but here's the general idea for those wanting to plan their own excursion. 
All-day outings like the Vashon loop are not her normal trips. For regular weekday runs, Goodfellow rattles off Sound Transit and King County Metro bus routes and destinations off the top of her head like a lifelong local rider and transit fan.  
Her earnest enthusiasm is infectious and comes with zero attitude or pretense.
While most may never combine a couple bus rides, the ferry and a train with a double-digit run, it's good to be reminded of the possibilities. 
Back to The Platform >>