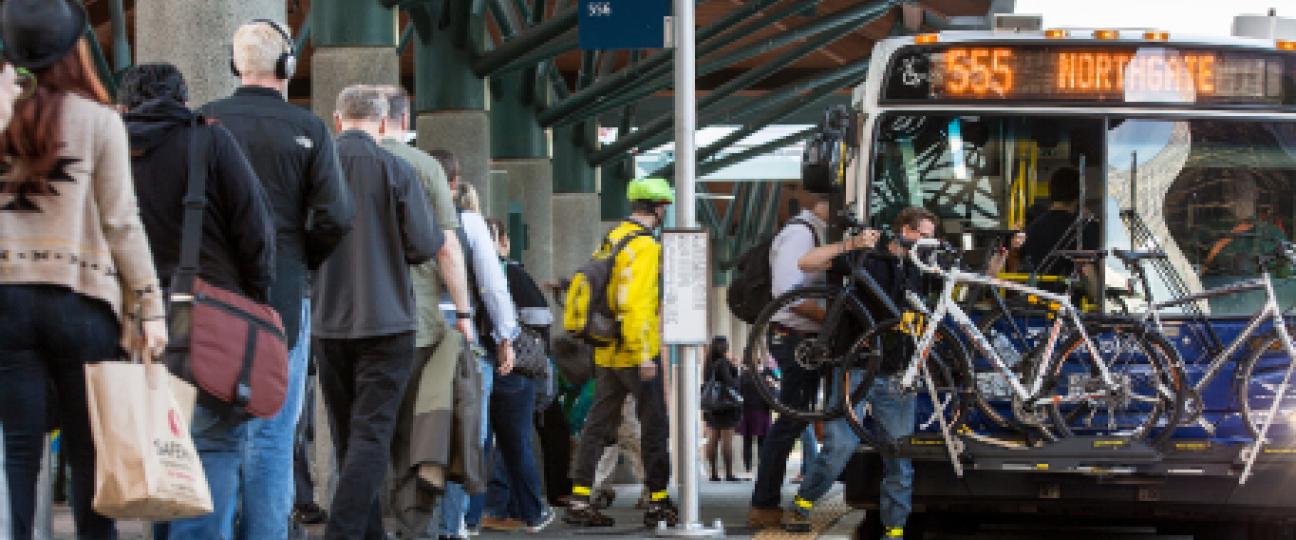 Sound Transit bus changes proposed for 2019 respond to construction closures and congestion
Body
When traffic slows down, either because of congestion or construction, buses can't make as many trips in the same amount of time. That's the simple equation driving most of the proposed changes to Sound Transit's express bus service in 2019.
Every year Sound Transit analyzes all of its routes to identify routes or trips that do not meet standards or that need additional investment, ensuring that resources are being used efficiently as part of the annual Service Implementation Plan (SIP). The SIP proposes service changes for the following year, and provides forecasts of future service, fleet needs and available funds.
The 2019 SIP proposes changes to several ST Express routes to increase the agency's ability to operate service reliably when construction projects close some transit facilities to buses in 2019 and help to optimize service in the face of increasing regional congestion.
The conversion of the Downtown Seattle Transit Tunnel (DSTT) to rail-only operations and the closure of the Montlake Freeway station for construction of the the Washington State Department of Transportation (WSDOT) "Rest of the West" Project to replace the State Route 520 bridge from Montlake to Interstate 5 are driving many of the proposed changes for March 2019.
Other changes aim to improve regional transit integration and use resources more efficiently. Here's the basics:
Route 550 will move to surface streets in downtown Seattle because of the shift to rail-only operations in the DSTT. Rail-only operations in the tunnel will increase Link light rail reliability.
Routes 545 and 555 will bypass Montlake Boulevard when the Montlake Freeway Station closes.
Route 542 will continue to serve stops on Montlake Boulevard, and will continue to connect to routes 545 and 555 on SR 520. This route will have expanded evening and weekend service through September 2019, as part of a tri-party agreement between Sound Transit, WSDOT and King County Metro.
Route 513 will extend to Community Transit's new Seaway Transit Center in Everett, and will no longer serve the stop at Evergreen Way and 79th Place Southeast.
Route 580 will have fewer trips; low-ridership trips will be discontinued and others will run only between Puyallup Station and the South Hill park-and-ride. Resources will be reinvested to improve service in Pierce County.
Route 555 will operate only between Northgate and Bellevue, and will no longer serve the low-ridership segment between Bellevue, Eastgate and Issaquah. Resources will be reinvested into improving reliability on Route 554. Riders can use King County Metro route 271 for trips between Issaquah and Bellevue. 
Additional changes are proposed for September 2019 and will be released through a separate process early next year.
You can read the entire 2019 Service Implementation Plan on your own and comment on the new service by phone, online by email or in person through Nov. 15.
(Editor's note: The full SIP is a treasure trove of Sound Transit bus and rail operations information - from ridership figures by route and stop to long-range fleet and capacity planning. Our service planning folks have done a great job making it into and eminently readable and useful resource over the past few years.)
Phone: 1-866-940-4387
Email:  servicechanges@soundtransit.org
In person:
Public Hearing - Thursday, Nov. 8, 1 p.m.
Union Station – Ruth Fisher Boardroom
401 S. Jackson St.
Seattle, WA 98104
Open House - Thursday, Nov. 8, 5 – 7 p.m.                                                        
Union Station—Ruth Fisher Boardroom                     
401 S. Jackson St.                                                               
Seattle, WA 98104