We hear you – construction projects and regional congestion have affected your commutes. 
Sound Transit and our regional partners have been working on service changes, so buses will be able to avoid traffic and serve more neighborhoods.
Every year, we analyze all routes to identify routes or trips that do not meet standards, or that need additional investment, as part of our annual Service Implementation Plan (SIP). 
The 2020 Service Plan considers big changes for buses crossing Lake Washington on the SR-520 bridge. 
One is the consolidation of Routes 540 and 541 into new Route 544. Route 544 would continue serving Overlake, South Kirkland and SR-520 – and deliver a new connection from the Eastside to South Lake Union, which we've heard is a high priority. 
A new option
In March 2019, the end of bus operations in the Downtown Seattle Transit Tunnel and the closure of the Montlake Freeway Station created new challenges for north Eastside transit riders. 
The new Route 544 would provide additional capacity on the busiest part of the corridor, from Overlake to North Downtown Seattle. Currently, 540 and 541 are among the lowest performing of all ST Express routes.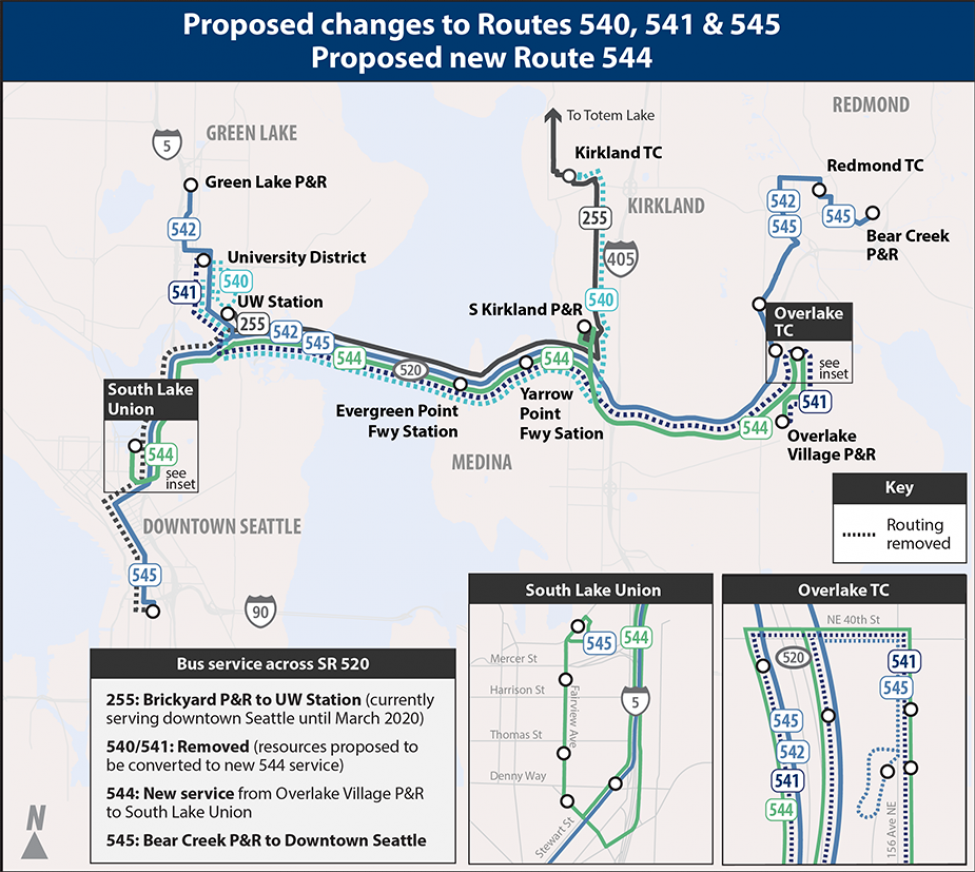 Route 544 would also help alleviate standing loads and overcrowding on Route 545 in the peak periods, benefiting approximately 5,000 riders. 
The changes aim to improve regional transit integration and use resources more efficiently.
Route 541 would be eliminated to fund Route 544, with passengers traveling between Overlake and UW needing to transfer at Evergreen Point or Yarrow Point freeway stations (this change requires approval from our board).
Route 540 would also be eliminated to fund Route 544, due to duplicative service on King County Metro Route 255 between Kirkland and UW.
As part of Metro's proposed North Eastside Mobility Plan, Route 255 is being restructured to serve University of Washington Station, allowing riders to transfer to Link light rail instead of getting stuck in downtown Seattle. This provides more access to areas served by Link, including Capitol Hill and the airport.
Riders could also transfer to other bus routes, and would also regain direct access to Montlake and the University District since the freeway station closed this year to accommodate SR-520 construction.
If the recommendation is adopted, any changes to scheduled bus service take effect with Metro's March service change. 
The SIP proposes service changes for 2020, and provides forecasts of future service, fleet needs and available funds. Learn more about the proposed changes and provide feedback here: soundtransit.org/sip.
You can comment on the new service by phone, online, by email or in person through Oct. 7.   
Phone: 1-866-940-4387
Email: servicechanges@soundtransit.org 
In Person: 
Public hearing:
Thursday, Oct. 3, 12:30 p.m.
Union Station – Ruth Fisher Boardroom
401 S. Jackson St.
Seattle, WA 98104
Drop-in sessions:                   
Tuesday, Sept. 24, 6:30 – 9:30 a.m.
South Kirkland Park and Ride
10610 NE 38th Pl.
Kirkland, WA 98033
Wednesday, Oct. 2, 3:30 – 7 p.m.
SR 520 at NE 40th St. freeway stops
Redmond, WA 98052
Thursday, Oct. 3, 10-2 p.m.
South Lake Union Farmer's Market
410 Terry Ave. N,
Seattle, WA 98109
Sound Transit street teams will also be at bus stops on the affected routes to provide information and answer questions at the following dates and locations:
Tuesday, Sept. 17, 3:30 – 7 p.m.
Overlake Village Park and Ride
Thursday, Sept. 19, 6:30 – 9:30 a.m.
Overlake Transit Center Bay 8
Monday, Sept. 30, 3 – 6:30 p.m.
UW Station, Bay 1