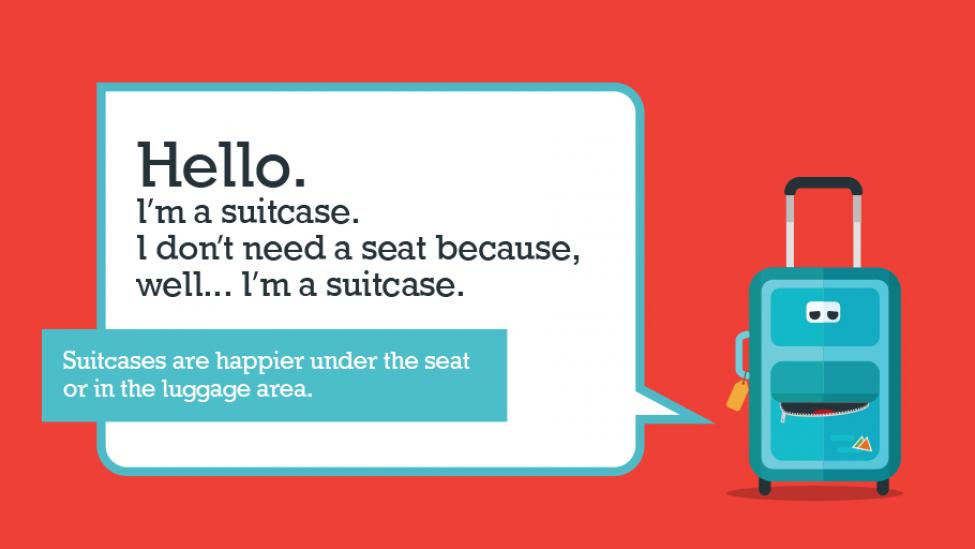 Summertime, when the luggage on Link goes under your seat
Body
Summer is the busiest season for Link light rail trains with more tourists and visits to the ballpark and airport. But busy doesn't have to mean uncomfortable.
Following a few simple tips will make it easier for everyone to enjoy their ride to or from the airport or the stadium this summer.
Be courteous
Don't be a seat hog. Put your luggage or packages on your lap or under your seat. Seats are for butts, not bags.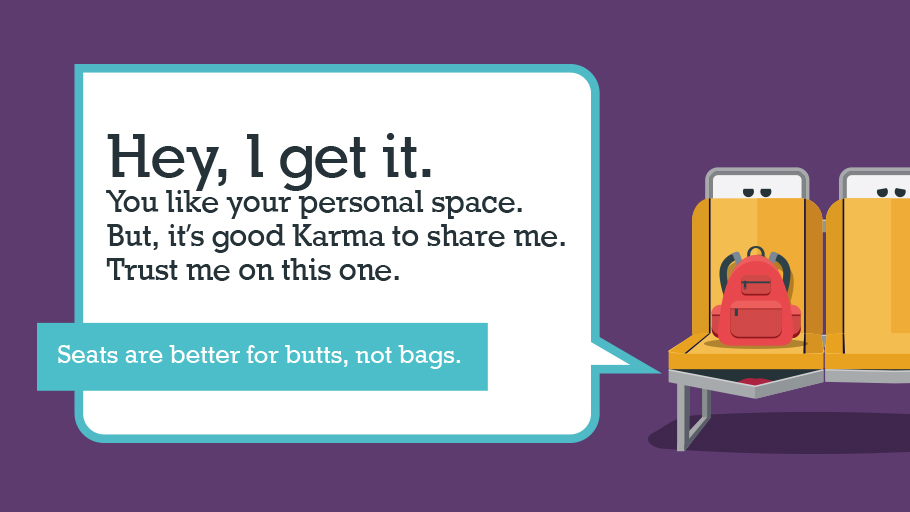 (Yes, the above images are going up on the trains and will be tres sharable via social media)
Remove your backpack and lay it near your feet. This frees up space and allows you to avoid nasty stares and accidentally hitting the rider behind you.
Don't huddle near the door. This creates a jam with passengers trying to board or get off. Please move to the middle and end sections of the train. You'll have plenty of time to get off at your stop.
Use your headphones. Your fellow passengers thank you.
Wait until everyone is off before boarding. This eliminates a jam-up at the door.
Security – new text option!
In an emergency, always call 911.
You can also call, text or email Sound Transit Security if you see something that is making you or your fellow riders feel uncomfortable or unsafe.
Either send an email or text to security@soundtransit.org and our security dispatchers will quickly see it. We know, sending a txt to an email address seems weird, but it works.  
You can also call the dispatch desk at 206-398-5268. The phone and email inbox are staffed 24/7.
If you are contacting security from a train, note the direction you're traveling and your car number. That way we know what train to board at the next station. The car numbers are high on the wall inside either end of every car, for example 115A, 115B, etc.
Riding with children
Hold small children by the hand on the platform.
Stay behind warning strips at the edge of station platforms.
Hold hands and board as a group so no one is left behind.
Do not block aisles and exits.
Covered drinks (including baby bottles) are OK. Eating is not.
Tickets
The easiest way to pay your Link fare is with an ORCA card. Tap on, tap off and you're good to go.
But visitors and infrequent riders may opt for the new Transit GO Ticket app. It's available for Apple, Android and Microsoft phones and lets you use your phone to buy tickets instead of waiting in line.
Thanks for riding - we'll see you on the train!