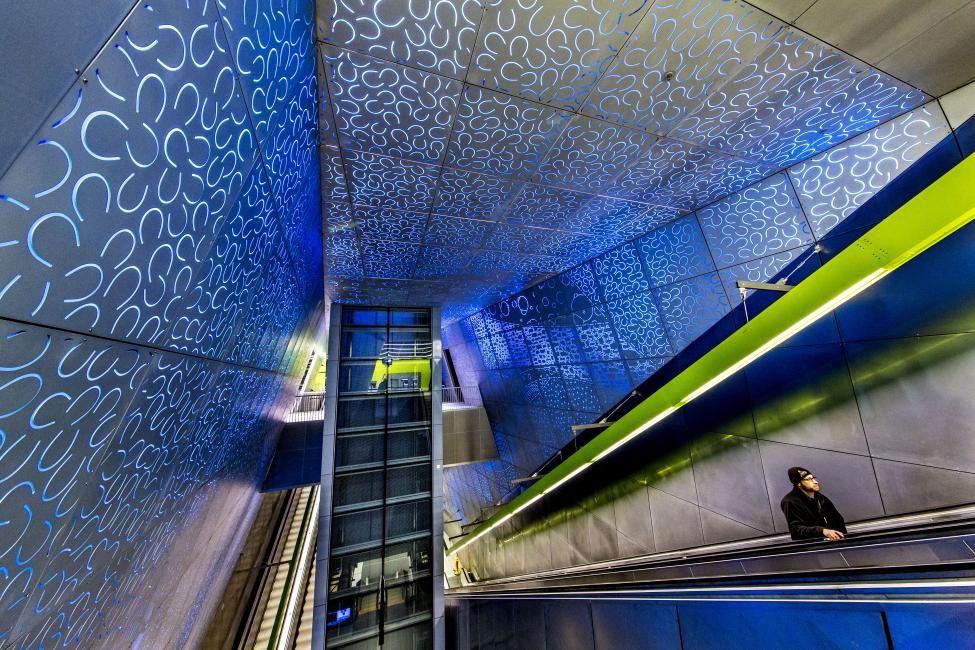 Take the stairs: a new backup plan for escalator issues at UW Station
Body
Short version: Sound Transit has a new protocol in place at the University of Washington Station to make the back stairs available to riders going to or from the light rail platform if the escalators are not available. These stairwells are normally only open during emergency situations.
We actually had to put the plan into action on Friday, April 27th, when two down escalators to the platform stopped working for approximately 40 minutes before technicians could restore them to service.
With the alternative stairs option in place, we are still not allowing riders to walk on stopped escalators because of the inherent safety risks of using the stopped escalators as stairs.
How we got here
On the sunny Friday afternoon of March 16 as UW students were headed off to spring break and commuters were heading home, two down escalators serving the underground light rail platform at the University of Washington Station stopped working.
Sound Transit had to direct riders to two elevators that run from the surface to the platform. Some riders reported waiting as long as 40 minutes to board the elevators as lines of rush-hour commuters snaked through the station plaza.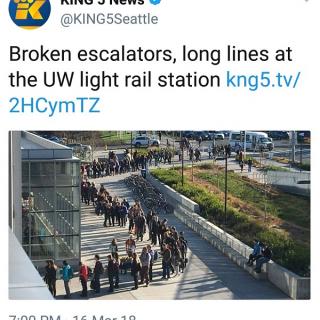 Pretty much everything that could go wrong, did go wrong that afternoon. It was not a good way to end what had been a week of rare spring sunshine culminating with "Transit Driver Appreciation Day" that Friday.
Staff from several departments took a hard look at what led to this unacceptable situation and recently buttoned up an approach to prevent having riders wait in long lines for elevators if the escalators break down.
Use the stairs
If there is no way to or from the platform on the escalators, Sound Transit Security staff will direct riders to the stairs normally reserved for emergency situations and monitor the stairwells until the escalators are returned to service.
We can't just prop the back stairs open and point riders that direction because of fire code requirements for fire separation and emergency ventilation if the station had to be evacuated. Now that we have a plan in place for Security staff to make sure everything is being done in accordance with local fire codes, we're good to go.
Based on guidance from the Washington State Department of Labor and Industries, escalator manufacturers and upcoming revisions to the International Building Code, we will not allow stopped escalators to be used as stairs. This is our practice today and will continue so that that customers have as safe an experience at our stations as possible.
Future stations, ongoing monitoring
Obviously, the best way to avoid having to use these backup plans is to make sure the escalators remain in good working order. New maintenance protocols we put in place last year have brought the UW escalator reliability to well above our 95 percent target. And a streamlined repair reporting process will help us get them back in service faster when there are issues.
We continue to incorporate lessons learned at our future stations. All future light rail stations with the exception of the University District Station have been designed to include public stairs to areas also accessed via escalators.
Although the University District Station is already under construction, our design teams are looking at the feasibility and potential cost and schedule impacts to add public stairs at the station this late in the process. We will report back on that work by September.