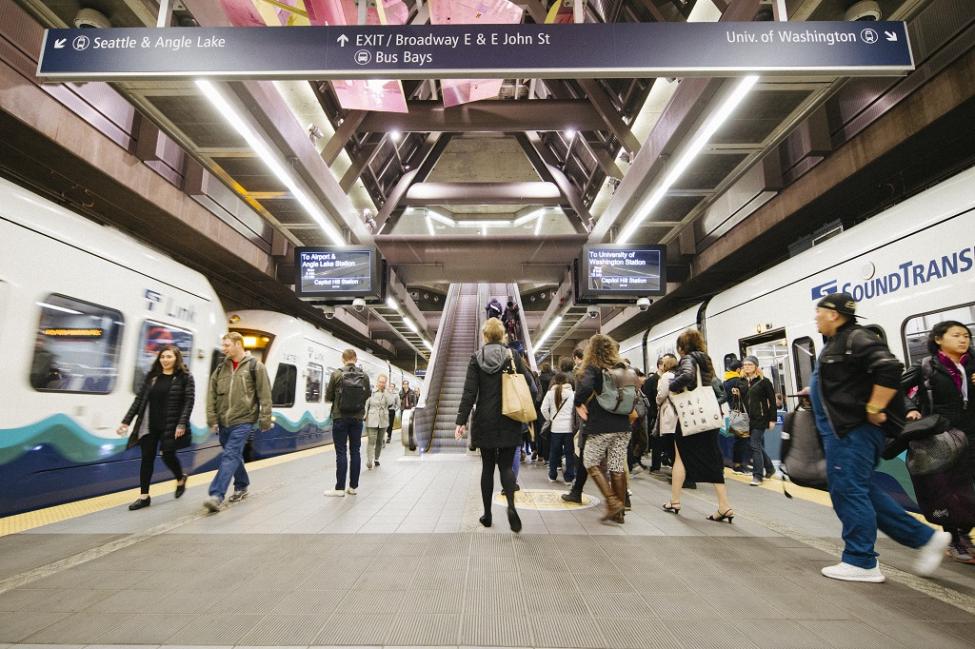 Two years in: How University Link is transforming Seattle
Body
Two years ago today we celebrated the opening of the University of Washington and Capitol Hill stations, extending our Link light rail system 3.15 miles completely underground.
The new stations have revolutionized travel between the state's largest job center (downtown Seattle), its premier nightlife district (Capitol Hill) and its largest university (UW) along with Seattle Central College. Trips that took 30 minutes by bus now take just 6 minutes by train. That's all day, every day, no matter what traffic is doing.
Since that day, ridership on Link has exploded, growing by 66 percent to 19 million annual boardings. UW, Capitol Hill and Westlake stations are now the three most popular stations in the entire system, accounting for 41% of all light rail boardings. 
As the data makes clear, riders have embraced both new stations stations. The University of Washington Station, which last year averaged 10,013 southbound boardings and 9,516 northbound deboardings on weekdays, is now the number one station in both of those categories. In other words, it's a popular place to get on the system and it's a popular destination in its own right.
Given that the Capitol Hill Station has seen the sharpest percentage increase in boardings of all our stations with a 23.5 percent increase between the second quarter of 2016 and the same period of 2017, it's fair to say the Capitol Hill Station is a major reason for the increased ridership overall.
The University of Washington Station is no slouch on this score. While it only had a 5.5 percent increase in boardings in 2017 over 2016, it was already way out ahead of every other station in total boardings except for downtown's Westlake Station.
Here's a look at the numbers to illustrate the overall station activity at Westlake, UW and Capitol Hill that shows how busy the new stations are just two years after opening.
A deeper dive into the numbers hints at something else about this popular addition to the system. Southbound "Offs" (as our planning nerds call off-boards) at the Capitol Hill Station are noticeably high for being just the second stop on the route. At an average of 2,195 on weekdays, they are on par with the average southbound offboards much deeper into the line, which doesn't make sense intuitively: As more people get on heading south, particularly at popular onboard stations like Capitol Hill itself, Westlake, and University Street, you'd assume exits on stations further south would outpace people getting off at Capitol Hill. But that's not the case.  
In part, this may be explained by the fact the King County Metro restructured its UW bus lines when U Link opened so there wouldn't be too much duplication; riders that were taking Metro buses along this corridor, an existing ridership base, are now taking Link.
But that doesn't fully explain the impressive numbers. We believe the U Link Extension has captured one of the most electrifying ecosystems in our city—call it the youth axis. The city synergy of University of Washington students and the creative culture on Capitol Hill is now a defining feature of our light rail line.
More importantly, by serving this key population, our light rail line is now a defining feature of this vital dimension of Seattle culture.
By the time the University Link extension celebrates its 5th birthday in 2021, we'll be getting ready to open three new stations in the UDistrict (right off The Ave), Roosevelt and Northgate, again completely underground. 
A trip between Northgate and Westlake will take only 14 minutes, music to the ears of anyone making the trip on I-5 today. And because buses will no longer be in the downtown transit tunnel, trains will be even more reliable than their 90% on-time performance today.
Opening Northgate will be just a taste of things to come, as voters have approved a visionary 83-station, 116-mile system. We can't wait to bring light rail to your neighborhood, and we'll be opening 10 new stations in 2023, nine new stations in 2024 and 33 more between 2030-2041. We're looking forward to opening those new stations and lines to the north, east and south in the coming years. When you connect major employment, housing, education and job centers, riders will jump on board and transform the region as they are already doing on U-Link. 
Thank you for riding, and we'll see you on the train!