114th Ave NE cul-de-sac closure
Body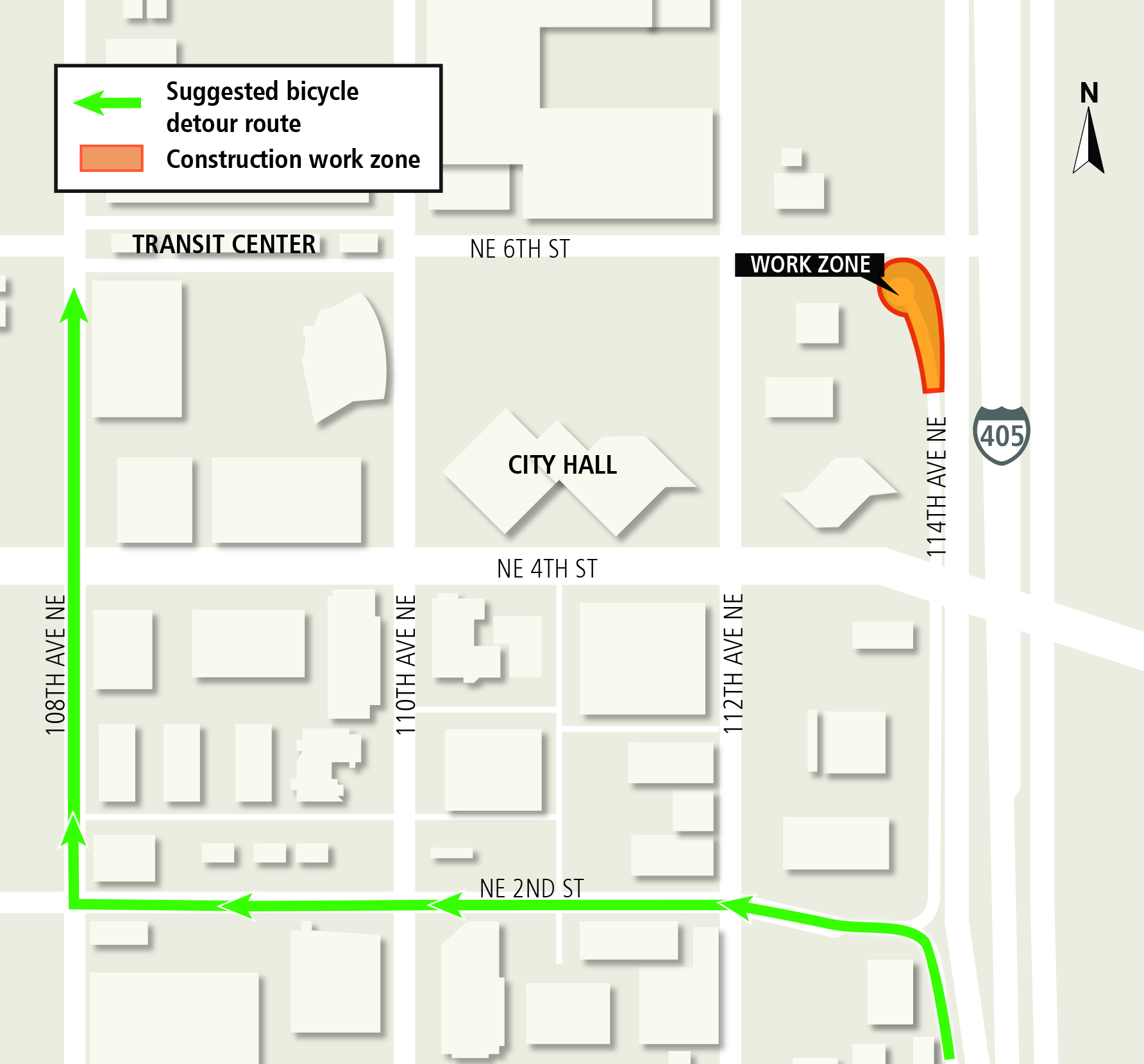 Beginning as early as Wednesday, July 5, Sound Transit will close the 114th Avenue NE cul-de-sac to begin work in preparation for construction of the elevated guideway that will cross I-405. Cyclists currently using 114th Avenue NE will be required to detour around the cul-de-sac closure. 
What to expect
The cul-de-sac closure is anticipated to last for approximately two years. 
Initial construction activities will consist of site preparation and utility work before work on the elevated guideway begins. Additional information related to elevated guideway construction is available below. 
Northbound cyclists are encouraged to use the detour route illustrated in the graphic. Signage will be in place to help direct cyclists around the construction work zone. 
Select on-street parking will be removed from the north side of NE 2nd Street to provide additional room for cyclists. 
For more information about biking in Bellevue, visit Choose Your Way Bellevue's bike page which features a city bike map.  
Elevated guideway construction 
Nearly 40 columns will be constructed to support the elevated guideway that will cross I-405 and transport riders between the Bellevue Downtown and Wilburton stations. Typical elevated guideway construction consists of:
Drilling shafts for column foundations. 
Installing columns.
Building the guideway, bridge spans and rail. 
A long-span aerial guideway will be constructed to cross I-405. This work will require nighttime construction to build and remove temporary construction support and is anticipated to commence in mid-2018. After completion of the temporary construction support, work will resume during daytime hours. Additional night work will be necessary to set precast girders for the NE 8th Street crossing.