Additional nighttime closures at NE 103rd street
Body
There will be additional nighttime closures at NE 103rd street. See information below:
On Friday, April 6, through Saturday morning, April 7. 
On Friday, April 13, through Saturday morning, April 14.
These closures are in addition to the closures of 1st Ave NE (see map).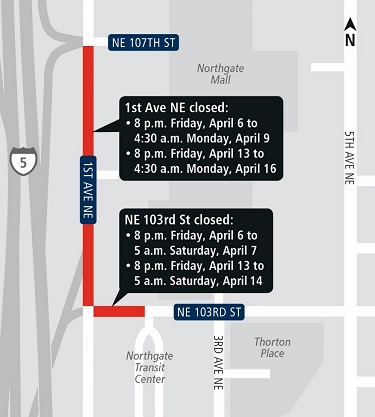 This is to allow Sound Transit's contractor to complete work related to the Northgate Link Station. 

Access to Northgate Transit Center and Northgate Mall will be maintained. I-5 express lanes will remain open. 
What to expect: 
Friday, April 6 – Saturday, April 7
and 
Friday, April 13 – Saturday, April 14
Work Hours: 8:00 p.m. – 5:00 a.m. 

Traffic Impacts: 
Closure of NE 103rd Street east of the 1st Avenue NE intersection to the west of the Northgate Transit Center access road (see map).
Construction activities: Removal of the falsework which has been used to support the guideway during construction. 
Construction equipment: Manlifts, light plants, forklifts, cranes, flatbed trucks. 
Sound Transit's Contractor has received a temporary noise variance permit for this work. 

The Northgate Link Extension will connect the Northgate, Roosevelt and U District neighborhoods to downtown Seattle and Sea-Tac Airport. Fast, reliable service will provide relief to one of the region's most congested traffic areas. The 4.3-mile extension is expected to be open for service in 2021.