Bellevue Way SE sidewalk and driveway construction
Over the upcoming weekend, crews will close two lanes of Bellevue Way SE between SE 30th and the "Y" at 112th Ave SE, two-way traffic will be maintained at all times. Crews will utilize the weekend closure, to pave portions of the southbound travel lanes, remove medians on Bellevue Way SE, and deliver precast panels for a storm water vault near Winters House.
What
Two way traffic will be maintained on Bellevue Way SE and all ramps to/from I-90 will remain open.
Lane closures and paving work will affect traffic turning between Bellevue Way SE and SE 30th St.
During the weekend closure, no turns will be allowed from Bellevue Way SE to SE 30th St. and only southbound turns will be allowed from SE 30th St. to Bellevue Way SE.
When
Where
Bellevue Way SE, between "Y" at 112th Ave SE and SE 30th
More
Work hours: 7 a.m. to 9 p.m.
Please use alternate routes and avoid driving in the area if possible
Please follow the direction of flaggers and signage in order to safely reach your destination
Equipment: Excavators, paving equipment and graders
Crews will minimize noise, dust and debris to the extent possible
Due to inclement weather or unforeseen issues, dates and times are subject to change.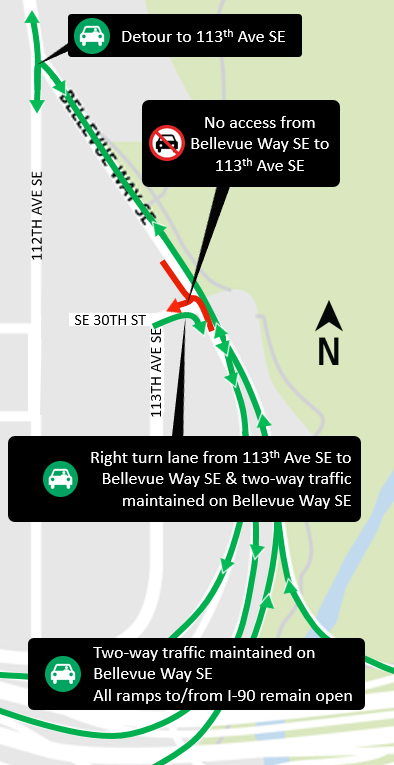 East Link construction progress photos
Just a few years after crews began building the 14-mile East Link light rail extension, work on the project is more than half-complete. Check out and join the East Link Light Rail Facebook Group for additional project updates and construction progress photos.
Reminder of ongoing closures
Bellevue Way SE reversible lane configuration
Sidewalk closures and detours on Bellevue Way SE and 112th Ave SE
Bellevue Way SE to I-90 west HOV ramp long term closure (closed through May 1, 2020)
112th Ave SE daytime lane reductions
112th Ave SE bypass road
Closure of SE 15th at 112th Ave SE
Winters House and Blueberry Farm Closure and new temporary lot
Get more information on previously announced long-term and ongoing closures here.
Night work over I-90
Work continues on the cast-in-place long span rail bridge over I-90. Ramp and lane closures will be necessary to safely complete installation of girders and temporary light plants will be used to illuminate the work area.
Monday-Thursday night (Friday morning) 8 p.m. to 5 a.m.: Work to construct the long-span bridges over I-90 is expected to continue into mid-2019. Sound Transit's contractor is permitted to work expanded hours in the I-90 corridor and adjacent to Bellevue Way Southeast, including 24-hour work in this area.
Get more information on long-span construction here.
Contact us
Outreach Specialist: jason.hampton@soundtransit.org or 206-903-7177
After-hours construction hotline: 888-298-2395