Business as usual during construction – and easier ways to shop local
Body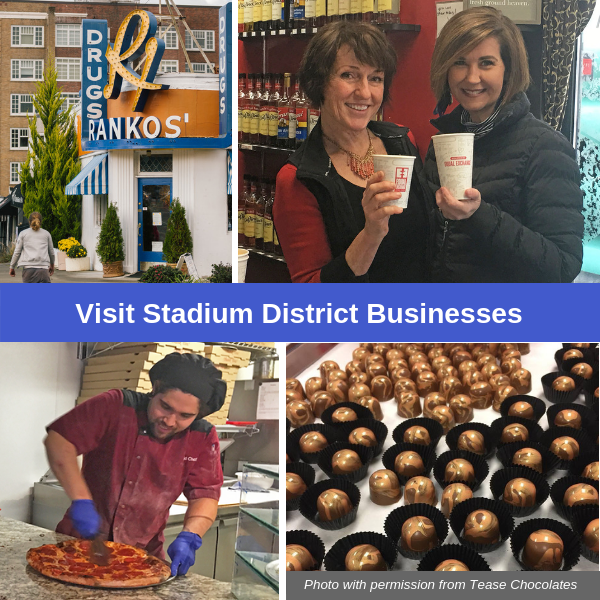 Are you shopping, eating and getting services from businesses along the light rail route? While construction happens outside, it's business as usual inside with outstanding food, drinks and a range of excellent services. Some businesses are making it easier to shop during construction --   bringing their products and services to you. 
In the Stadium District, businesses are reaching customers in new ways. Here are a few examples:
Tease Chocolates. Tacoma's first bean to bar chocolate maker plans to sell its delicious truffles and caramels online. They also make custom orders, sell at markets and events, and may offer specials.
Morrell's Dry Cleaners. This long-time cleaners can deliver your clothes to you. Linda Morrell says they are launching a mobile app for dry cleaning pick up and drop off. 
Salamone's Pizza. Salamone's opened last summer, and was so popular, they ran out of dough! Now this New York-style pizzeria delivers. Check out their deals and specials.
Rankos' Pharmacy. This third-generation, independent pharmacy provides free, daily pharmacy delivery to your home, office or facility. Rankos' has a parking lot in back. For your convenience, they're starting a curb-side service.
Do you own a business along the route that's reaching customers in a new way? If yes, please contact Liz at liz.satterthwaite@soundtransit.org, and we'll let folks know about it in the next project update! Thank you. Some businesses continue to deliver as usual, including Jimmy Johns and North Slope Coffee. 
Because the deep utility work recently started in the Stadium Business District, we highlighted a few Stadium businesses in this update. We plan to feature Hilltop businesses and businesses along Commerce Street in future updates. 
Valentine's Day is coming up – remember to shop and dine at a business along the route!

Upcoming construction in the Stadium District and Commerce Street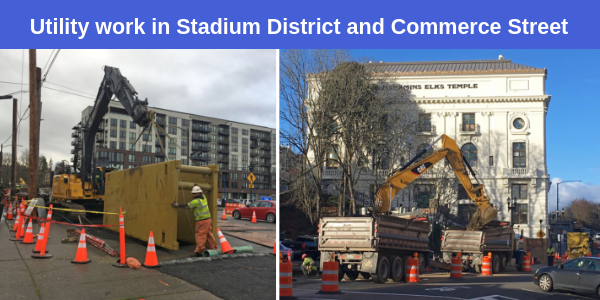 The contractor continues to move and replace underground pipes in the Stadium District and along Commerce Street. In February, the utility work will continue on 1st Street, and some sewer work will take place on Division Avenue from Yakima Avenue to K Street. 
The contractor will work on water lines along Stadium Way at the intersections of 4th Street and Division. In addition, crews will create the foundations for the overhead contact system (the base of the power poles) along Stadium Way, starting at the top of the hill and moving down Stadium Way.
On Commerce Street, utility work will take place in between 7th Street and the existing Theater District Station. The Link will continue to operate as normal.

Underground utility work may start in front of Tacoma General in late February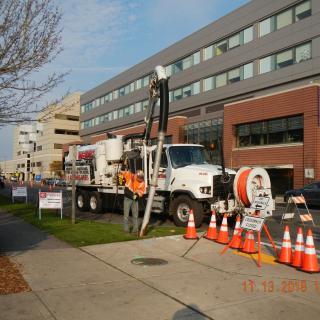 The contractor may start underground utility work on Martin Luther King Jr. Way in front of Tacoma General as early as late February. Two-way traffic will be maintained on Martin Luther King Jr. Way in front of the hospitals. More details to come. 

Hilltop business district: no underground utility work scheduled for a while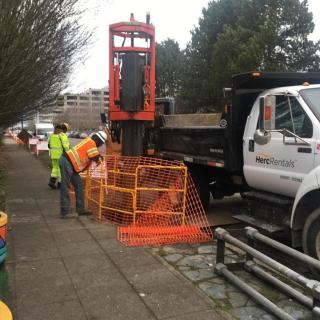 In the Hilltop business district, the contractor's schedule does not show the underground utility work happening in the next couple of months. We will keep you informed of the schedule and will provide advance notice. In the coming weeks, the contractor may work on smaller construction activities along Martin Luther King Jr. Way, such as creating foundations for the overhead contact system and doing electrical work. This kind of moving work generally takes a few days at one location and then moves to another location. 
Pile driving completed at the Operations and Maintenance Facility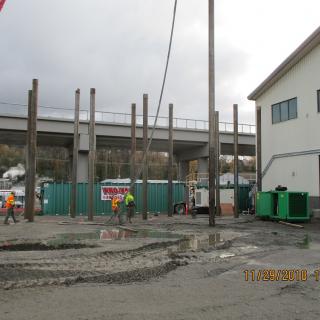 It will be quieter in the Dome District! In January, the contractor completed pile driving at Sound Transit's Operations and Maintenance Facility. Work continues to expand the OMF, including underground utility work on S. 25th St. 
Attend a drop-in meeting at the Hilltop Action Coalition office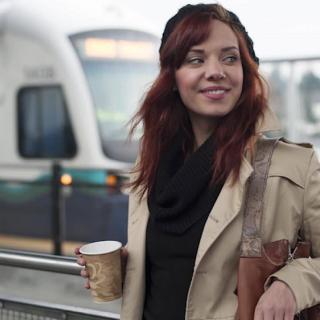 If you're wondering where the Hilltop Tacoma Link Extension will go or have questions about construction, please stop by the Hilltop Action Coalition's office and talk with project staff at a drop-in meeting. Sound Transit is teaming up with the City of Tacoma and the Hilltop Action Coalition to bring project information closer to Hilltop residents. 
We plan to hold these meetings at HAC's office regularly, so you can keep informed. The first meetings will be:
•    Wed, Jan. 30 from 11 a.m. to 1 p.m.
•    Thurs, Jan. 31 from 4:30 to 6:30 p.m.
   
Everyone is welcome. Drop-in any time. Light refreshments will be served. The Hilltop Action Coalition's office is located at 1116 Earnest S Brazill St. See you there!

Coffee with the Contractor: Feb 13 at Diloreto's on Commerce St.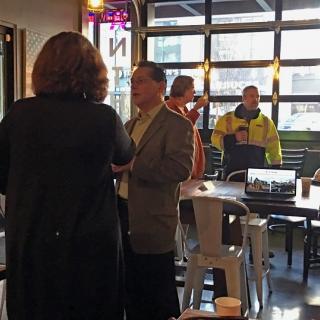 Sound Transit and the contractor, Walsh Construction Co. II, LLC, will be available to talk about upcoming construction work and answer your questions at our "Coffee with the Contractor" events. The next Coffee with the Contractor is Wednesday, Feb. 13 at 8 a.m. at Diloreto's, 786 Commerce St. Coffee will be provided. Hope to see you there! Thank you to everyone who attended our last coffee at Anthem in the Stadium District!

Meeting with community groups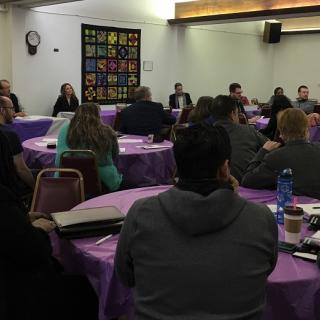 We continue to meet with community groups (including apartments and condos) along the route to explain the project and answer questions. If you would like us to visit your group, please contact Liz at liz.satterthwaite@soundtransit.org. Thank you!