Construction activity for May 16-30
Body
What to expect during the next two weeks* (May 16-30):
The locations for the work listed below are shown on the project map.
1. Electrical utility work
Continue installing electrical utilities across the alley at NE 43rd St just east of 12th Ave NE. The northern end of the alley at NE 43rd St will be closed to motorists and pedestrians during this work.

2. Pedestrian pathway and retaining wall
Continue building the pedestrian pathway between NE 43rd St and Brooklyn Ave NE next to Varsity Arms condos. The pathway is currently closed while crews install electrical utilities. The next step is to build a concrete retaining wall along the alley. The pathway is scheduled to     re-open mid-June. The northern end of the alley at NE 43rd St will be closed to motorists and pedestrians during this work (anticipated through mid-June). East-west pedestrian access will be provided along NE 43rd St. 

3. Shoring walls for station excavation
Continue installing shoring walls around the site. Two to three drill rigs will be working concurrently to build the walls. Impacts will include noise from the drills during soil removal, noise during installation of metal beams, dust from soil removal and pouring of concrete, and trucks hauling materials offsite. Trucks will be delivering large loads during the early morning hours (beginning around 4 am) over the next couple of weeks. The intersection of Brooklyn Ave NE and NE 43rd St will be intermittently closed to motorists during this work. This work will continue through the summer.

4. NE 42nd Street roadway work
Crews are placing concrete panels and laying asphalt along NE 42nd St between Brooklyn Ave NE and University Way NE. Impacts during work hours include closure of the westbound lane on NE 42nd St, limited street parking along this section of road, closure of one crosswalk at University Way NE and NE 42nd St, and closure of the entrance to the alley at NE 42nd St just west of University Way NE to motorists. This work is expected to be complete by Friday, May 23.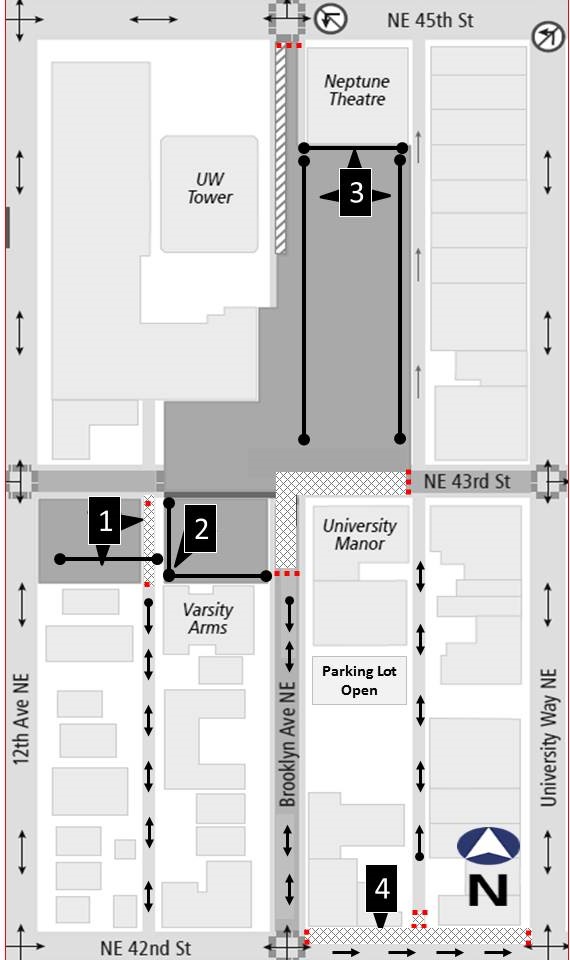 On the horizon (After May 30)*
Continue installing soil retention walls around the light rail construction site.

Continue work on the new pedestrian pathway

Close the intersection at NE 43rd Street and Brooklyn Avenue NE to motorists to construct a temporary roadway bridge. Pedestrian access will be maintained during this work.
Sound Transit Temporary Art Roster - Call to Artists
STart, Sound Transit's art program, is establishing a roster of pre-qualified artists for temporary public art projects (including the construction walls at the U District station). STart would like to encourage artists who use the following in their practice to interpret the spirit of place: community engagement; working with the urban form; collaborative process; large scale or oversized gesture; intimate expressions; conceptual, architectural, historical, literary expressions in their visual work; or other expressions we have yet to think of. STart encourages all types of artists to apply.

 For a full description of this opportunity and information on how to apply: http://www.4culture.org/apply/index.aspx   
Application Release Date: May 12, 2014 09:05 AM
Deadline: June 2, 2014 5:00 PM
Budget: $500 - $5,000
Eligibility: Open to artists and artist teams residing in the US.  
Information: Contact Mylinda Sneed mylinda.sneed@soundtransit.org for project details or Ryan Feddersen ryan.feddersen@4culture.org for online application inquiries. 4Culture will manage the application process for this artwork opportunity.   Visit www.soundtransit.org/STart for details on this commission. 
View progress online at udistrictstation.