Construction activity for May 2 - 16
Body
What to expect during the next two weeks* (May 2 - 16) -Please note work this Sunday, May 4 described below.
The locations for the work listed below are shown on the project map.
1. Pedestrian pathway (Open Mon-Fri, 7 am to 6 pm) 

Continue building the pedestrian pathway between NE 43rd Street and Brooklyn Avenue NE. The pathway is currently being used for pedestrian access while crews install electrical utilities along NE 43rd Street. Pathway hours are Mon-Fri between 7 am and 6 pm. The pathway will temporarily close again in late spring/early summer to construct a concrete retaining wall along the path and install gates and fencing. Pedestrian access will be provided during this work.

2. Shoring walls for station excavation 

Continue installing shoring walls around the site. Crews have begun installing the northern wall by Neptune Theater. Crews will begin working on the east and west walls during the next two weeks. Two to three drill rigs will be working concurrently to build the walls. Impacts will include noise from the drills during soil removal, noise during installation of metal beams, dust from soil removal and pouring of concrete, and trucks hauling materials offsite. Trucks will be delivering large loads during the early morning hours (beginning around 4 am) over the next few weeks. This work will continue through the summer.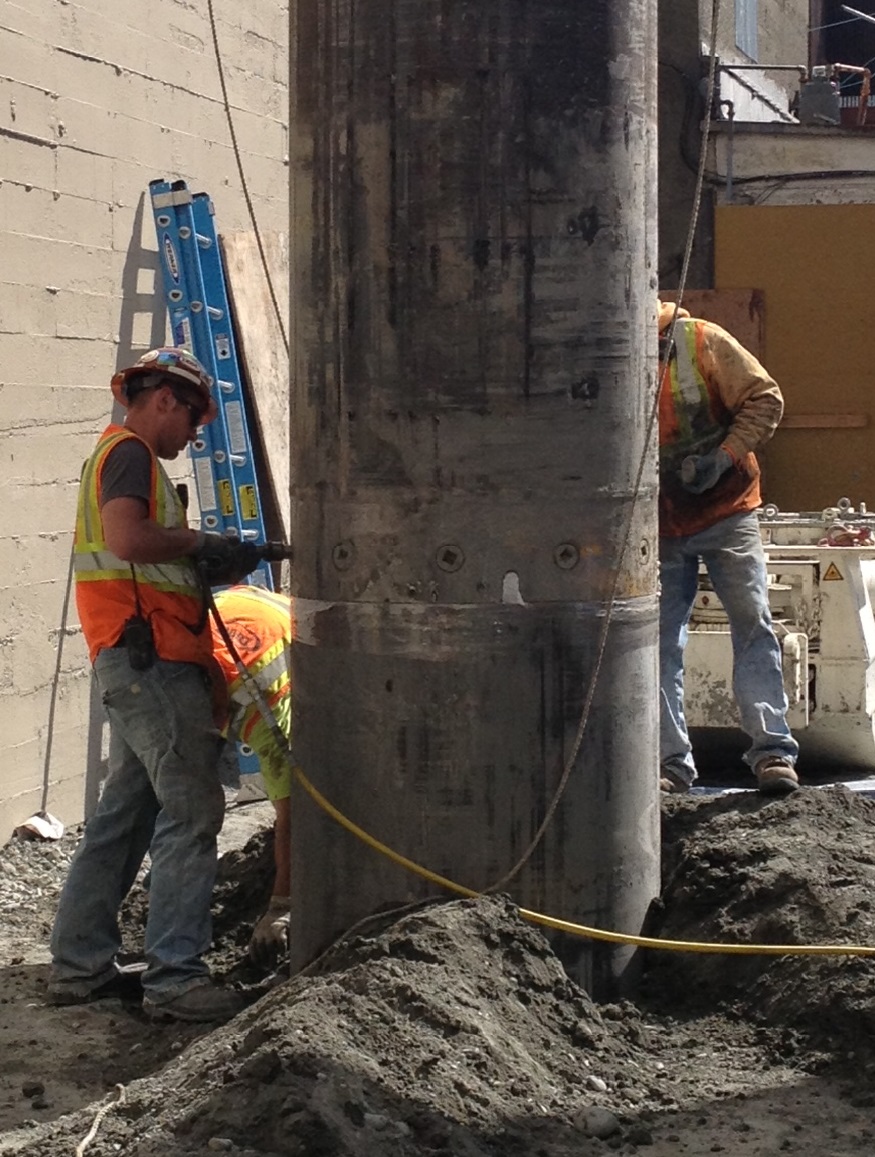 Installing a concrete form for soil retention wall 

3. Electrical utility line relocation and sidewalk restoration (Work this Sunday, May 4 from 7 am to 7 pm) 

Continue relocating electrical utilities in the sidewalk along NE 43rd Street next to U Manor. The intersection of Brooklyn Avenue NE and NE 43rd Street will be intermittently closed to motorists during this work. A section of the alley west of University Way NE at NE 43rd Street will be closed to motorists on Sunday, May 4. There will be noise and dust during demolition of the sidewalk, curb, and roadway. Pedestrian access will be maintained using temporary pathways. The electrical work will be completed in approximately one week. 

4. Roadway/sidewalk work on Brooklyn Avenue 

Complete widening of Brooklyn Avenue NE just south of NE 45th Street. This involves pouring concrete for the sidewalk and paving the roadway.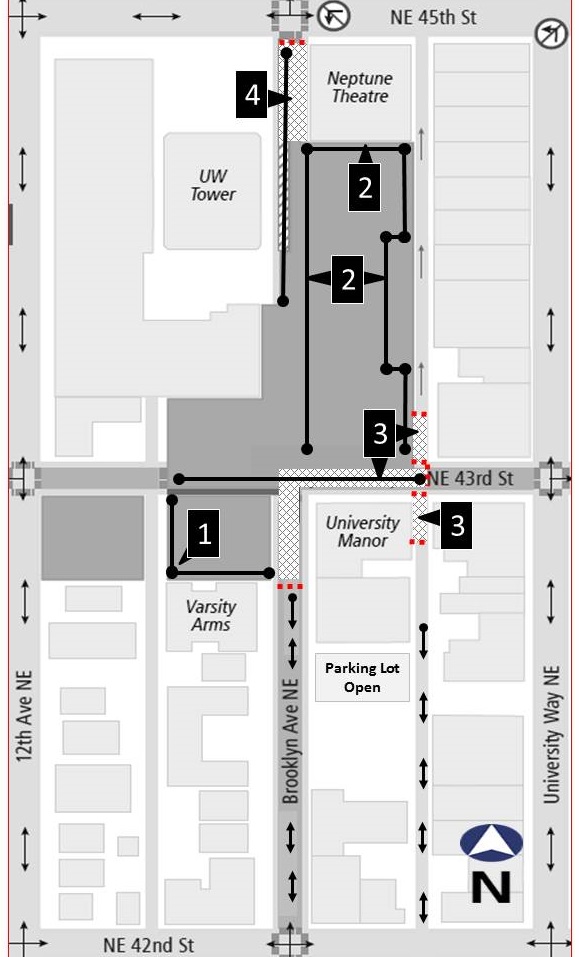 On the horizon (After May 16)*
Continue installing soil retention walls around the light rail construction site. 
Close the intersection at NE 43rd Street and Brooklyn Avenue NE to motorists to construct a temporary roadway bridge. Pedestrian access will be maintained during this work. 
Schedule: Work hours are typically Monday through Friday from 7 a.m. to 7 p.m. Intermittent weekend work may be scheduled between 9 a.m. and 5 p.m. Construction schedules are subject to change. Notifications will be distributed for significant changes.*
U District Station
The U District Station is under construction on Brooklyn Avenue NE between NE 45th and NE 43rd streets. The station is part of the future 4.3-mile Northgate Link Extension connecting Northgate, Roosevelt, and U District neighborhoods to downtown Seattle and Sea-Tac Airport.

For More Information 
Phone: Contact Paige Cureton, (206) 398-5300
Email: northlink@soundtransit.org
Construction Hotline: For issues that need immediate attention after normal business hours, call Sound Transit's 24-hour construction hotline: 1 (888) 298-2395.

For information in other languages: