Construction activity for May 30-June 13
Body
What to expect during the next two weeks* (May 30-June 13):
The locations for the work listed below are shown on the project map.
1. Electrical utility work
Continue installing new electrical utilities along NE 43rd St between 12th Ave NE and University Way NE. The utilities will provide power during construction and power the future light rail station. This work involves removing old electrical equipment (cables, pipes and electrical ductbank).

2. Pedestrian pathway and retaining wall
Continue building the concrete retaining wall along the alley. The pedestrian pathway between NE 43rd St and Brooklyn Ave NE next to Varsity Arms condos is currently closed during this work. The northern end of the alley at NE 43rd St will be closed intermittently to motorists and pedestrians. East-west pedestrian access will be provided along    NE 43rd St. 

3. Shoring walls for station excavation
Continue installing shoring walls around the light rail construction site. This work will continue through the summer.
Construction impacts:
Periodic closures of the intersection of Brooklyn Ave NE and NE 43rd St to motorists.

Two to three drill rigs working concurrently on the shoring walls.
Noise from drill rigs during soil removal and installation of metal beams.
Potential low-frequency vibration during drilling.
Dust from soil removal and pouring of concrete.
Frequent truck traffic bringing materials onsite and hauling materials offsite.
Trucks delivering large loads during the early morning hours (beginning around 4 am). 
Crews will work to minimize impacts, such as noise, dust, debris, and access impacts during the work.

Equipment: trucks, excavators, jackhammers, drill rigs, cranes, generators, water treatment systems, street sweepers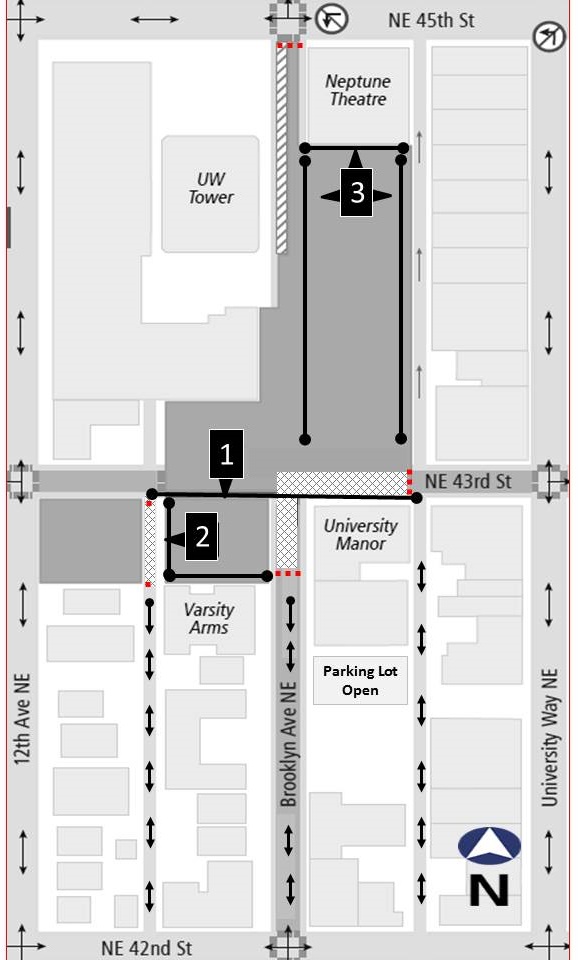 On the horizon (After June 13)*
Continue installing shoring walls around the light rail construction site.
Open the new pedestrian pathway next to Varsity Arms condos. The gated pathway will be open Mon-Fri from 7 a.m. to 6 pm. The pathway will be locked during the evenings and weekends.
Close the intersection at NE 43rd Street and Brooklyn Avenue NE to motorists to construct a temporary roadway bridge. Pedestrian access will be maintained during this work. 
*Schedule: Work hours are typically Monday through Friday from 7 a.m. to 7 p.m.  Intermittent weekend and evening work may be scheduled. Construction schedules are subject to change. Notifications will be distributed for significant changes.
View progress online at udistrictstation.