Construction alert: U District Station
Body
Setting the foundation for the future light rail station
This summer, crews will pour concrete at the bottom of the U District light rail station. They'll pour two thick concrete layers for two different reasons. The first layer will serve as the foundation of the permanent station. A second temporary layer will support the tunnel boring machines as they move across the station.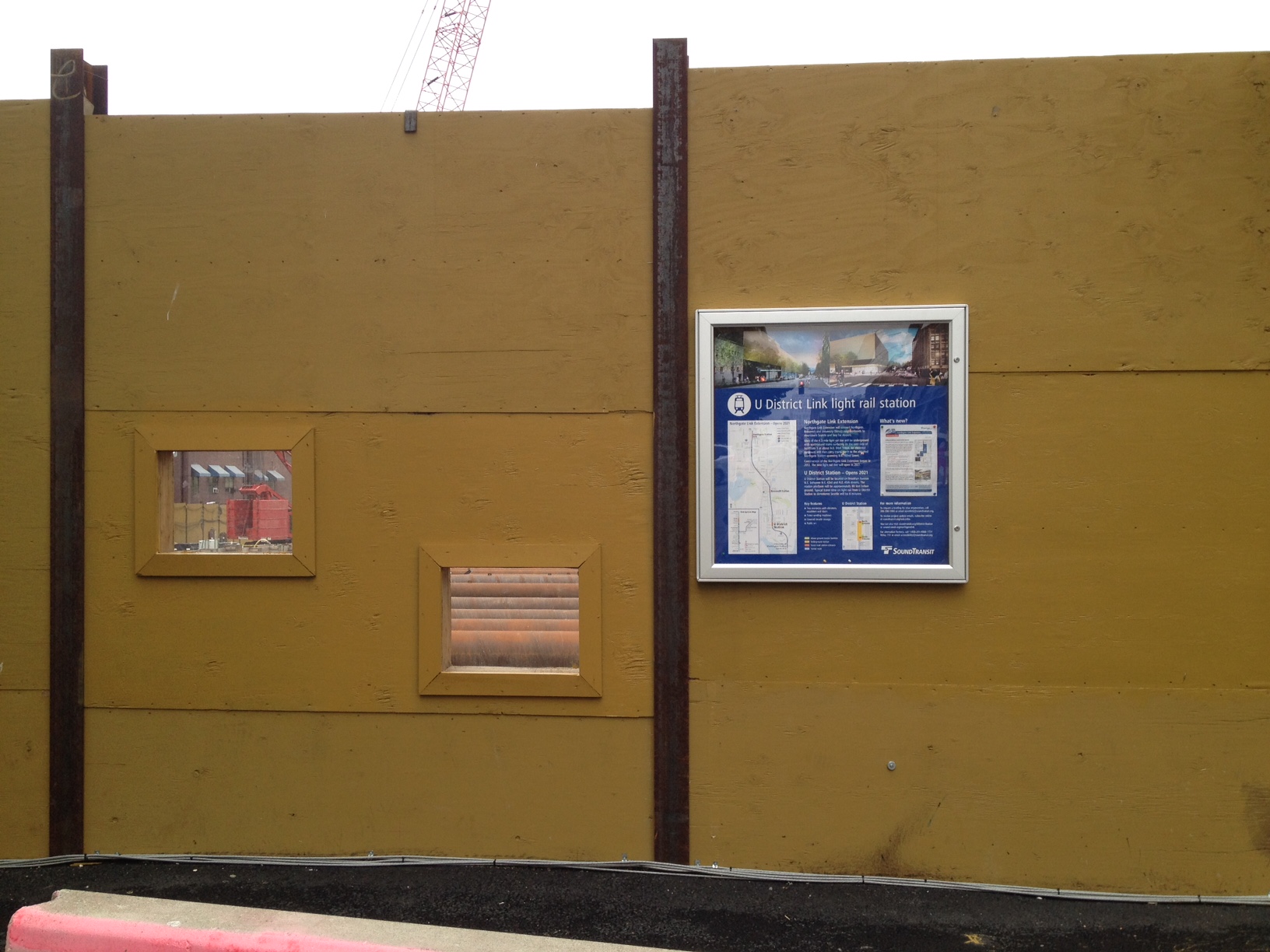 Check out construction progress at the public viewing window located in the gold wall on Brooklyn Avenue NE next to Neptune Theatre.
Getting ready for the tunnel boring machines 
Besides pouring concrete, crews are installing a soil freezing system at the north and south ends of the station box before the tunnel boring machines arrive. The system uses a series of pipes and freezing brine to create a block of ice to stabilize the soil just above the tunnels at the station. Ground freezing work will take approximately six weeks.
The first tunnel boring machine named Brenda is currently between Roosevelt and U District stations. Brenda is expected to arrive at U District Station by early fall. The second tunnel boring machine Pamela is at Roosevelt Station and is expected to arrive later in 2015. Both machines are working their way south from the Maple Leaf area to the future University of Washington Station.
Vehicle turnaround on Brooklyn Avenue NE at NE 45th Street 
Crews will install a turnaround area for cars on Brooklyn Avenue NE just south of NE 45th Street later this summer. The turnaround will allow for three-minute passenger loading/unloading adjacent to UW Tower. There will continue to be no parking allowed at this location. The turnaround is expected to remain in place until the roadways adjacent to the light rail station are restored to their permanent condition prior to station opening in 2021.
Schedule
Expect night and weekend work this summer. The City of Seattle Department of Planning and Development activated the Major Public Project Construction Variance for U District Station on June 22. This allows crews to work on tunneling support activities during the overnight hours. No high impact noise activities are allowed under this variance before 8 a.m. or after 5 p.m. on weekdays or before     9 a.m. or after 5 p.m. on weekends and holidays. The variance will remain in place for up to 30 months.
Construction schedules are subject to change. Notifications will be distributed for significant changes. 
Construction impacts
Frequent truck traffic on area roads delivering materials and hauling materials offsite. The number of trucks will decrease once excavation of the station is complete.
Trucks and equipment arriving onsite during the early morning hours.
Concrete trucks and other construction equipment entering the site using Northeast 43rd Street.
Noise from equipment and heavy machinery.
Wheel washing stations to minimize truck debris track-out onto city streets.
Equipment: bulldozers, dump trucks, concrete trucks, vacuum trucks, excavators, jackhammers, cranes, conveyor system, generators, water treatment systems, street sweepers