Construction at the U District light rail station is underway - former Chase Bank garage
Body
Construction at the U District light rail station is underway, and Sound Transit's contractor is currently working on the former Chase Bank garage and will move their efforts to the residential building and the former Chase Bank building (see map). Below lists what you can expect in the next two weeks at the U District construction site:
Two week look ahead (as of 5/7/13)*:
Prepare the former Chase Bank and the residential building for demolition
Continue demolition of the former Chase Bank garage roof
Continue to disconnect utilities in preparation for building demolition
Start demolition of the residential home as early as Friday May 10, 2013
Start demolition of the former Chase Bank as early as the week of 5/13/13. The plan is to demolish part of the former Chase Bank the week of 5/13/13 and to identify the best way to proceed. The scheduled date to proceed with full demolition of the former Chase Bank building is Monday May 20, 2013
Construction vehicle traffic/use (concrete trucks, vacuum trucks, excavator, jackhammers)
Installation of concrete barrier alongside the alley next to former Chase Bank
Use of generators
Sorting of materials
Temporary sidewalk closures and street parking restrictions adjacent to the construction work. Follow detour signage and use designated crosswalks to access sidewalk across the street.
On the horizon (5/20/13 and on)*
Grading of the residential building site
Demolition of the former Chase Bank and grading of the site: approx. start date - May 20th
The work hours are generally Monday – Friday from 7 a.m. to 5 p.m.*
*Construction schedules are subject to change. Notifications will be sent out for significant changes.
FOR MORE INFORMATION
For more information about the U District Station, please contact Wilbert Santos at (206) 398-5300 or northlink@soundtransit.org. You can also visit our webpage. Report construction issues (after business hours) at our 24-Hour Construction Hotline at 1 (888) 298-2395
STAY SAFE AND SOUNDS AROUND LIGHT RAIL CONSTRUCTION:
Obey pedestrian traffic signals
Cross the street only at designated crosswalks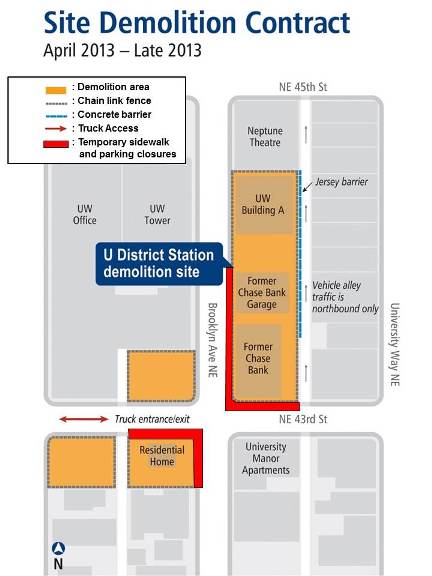 WHAT IS THE U DISTRICT STATION?
U District Station will be located in the University District on Brooklyn Avenue NE between NE 43rd Street and NE 45th Street. This underground station will serve the surrounding residential community, the "Ave" business district, other employment sites, the UW Tower and the north University of Washington campus.
The U District Station is part of the Northgate Link Extension project which is a 4.3 mile light rail extension of the current system that will provide a fast reliable option for getting through one of the region's most congested traffic areas. The Northgate Link Extension project includes stations at Northgate, the Roosevelt neighborhood and the University District.