Construction on Weedin Place NE
Body
As soon as Wednesday, May 28 construction crews working for Sound Transit will begin a project to install underground utilities on Weedin Place NE from just north of NE 68th Street to just south of NE 66th Street.
Crews will typically work from 7 a.m. to 7 p.m. Monday through Friday and on Saturdays as needed. Crews will limit high impact type work until after 8 a.m. This work is scheduled to take approximately three to four months.
Crews are installing electrical vaults and conduit beneath the road which will require sawing the pavement, jack hammering, excavation, cranes and paving equipment.
Parking will be closed for the duration of the work on both sides of the street. The sidewalk on the north side of the road will also be closed.
Crews will restore the pavement and sidewalks at the end of the project. Crews will also replant any landscaping on the WSDOT property across from NE 68th Street at the end of the project.
This work is needed to supply electricity to the Roosevelt Station construction site as part of the Northgate Link extension.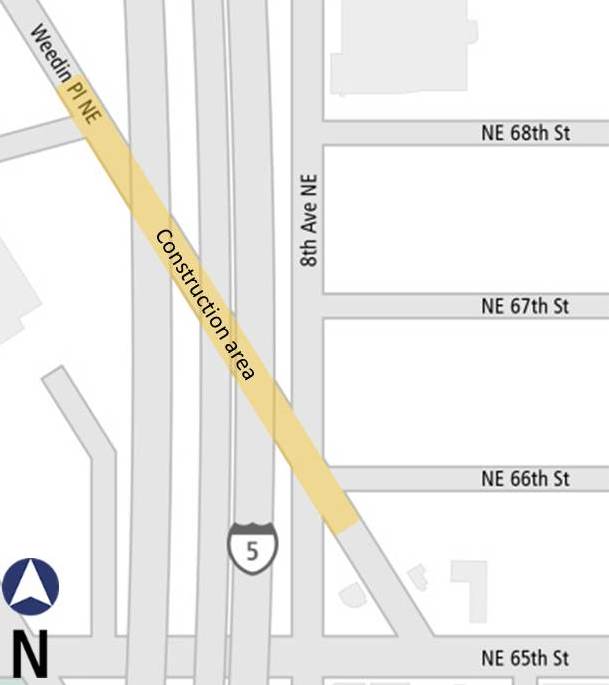 Northgate Link Extension is a key part of the Sound Transit's regional mass transit system approved by voters in 2008. The 4.3-mile light rail extension includes stations in the University District, Roosevelt, and Northgate neighborhoods.
For more information about Northgate Link Extension construction:
Call Ryan Bianchi at 206398-5300
24-Hour Construction Hotline:  1-888-298-2395
For information in other languages: