Crews to start work at 7 a.m. Sunday
Body
Construction crews working for Sound Transit will work from 7 a.m. to approximately 5 p.m. Sunday, Sept. 21.
Crews are working with Seattle Public Utility on a water line beneath NE 66th Street between Roosevelt Way NE and Brooklyn Avenue NE.
Crews will begin work at 7 a.m. but will not start impact work until after 9 a.m. Crews expect to complete the work by 7 p.m.
The work requires water service to be shut off for some buildings. Seattle Public Utilities will notify all customers the water shut off is expected to effect.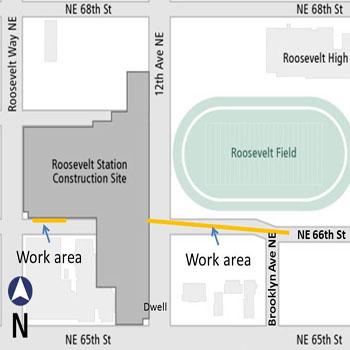 24-Hour Construction Hotline:  1-888-298-2395
For information in other languages: