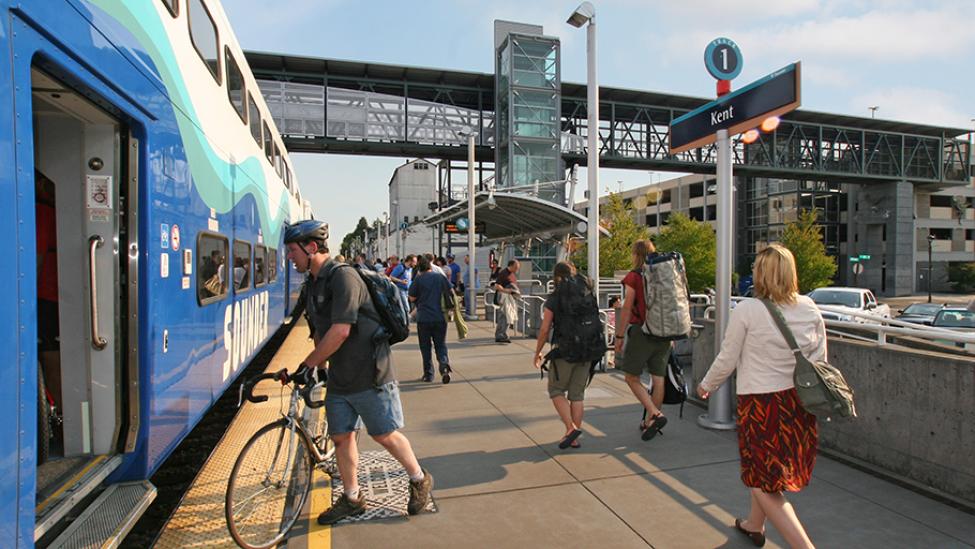 Fall open house will share environmental study results
Sound Transit is planning a new garage and pedestrian, bicycle and bus improvements at Kent Station to give more people convenient access to a congestion-free commute on Sounder. 
After sharing early designs with the community last fall, the project team has been evaluating potential environmental impacts and possible mitigation measures. We will share results of our environmental study at an open house this fall. We've also been working closely with the City of Kent and King County Metro to explore new options for bus layover space, helping ensure people have a variety of ways to get to the station.
Later this year, the Sound Transit Board of Directors will advance the project to the preliminary engineering phase, which includes property acquisition, permitting and selection of a design-build firm. We expect construction to begin in 2021, with the new garage opening in 2023.
Available parking near Kent Station today
Looking for another option today so you can ride Sounder without getting up at the crack of dawn? Consider trying the James Street Park-and-Ride at 902 W James Street. Located about a half-mile west of the station, this 713-stall parking lot is typically less than half full on weekdays. Connect to the Sounder Station with a 12-minute walk or frequent service on Metro routes 150, 166, or 180. (Catch the buses on the north end of the lot, on James Street.)
Sound Transit in your community
Curious about what's happening with the new garage or other Sound Transit news? Come talk to Sound Transit staff when we're in your neighborhood:
Kent Farmers Market: June 22. The market is located at Town Square Plaza, at the intersection of 2nd Ave and Smith Street, and is open 9 a.m.-2 p.m.
Kent Station Summer Concert: Aug. 7. The event is 6-8 p.m. in the plaza in front of AMC Theater (426 Ramsay Way, Kent, Wash.).  
Sound Transit has been visiting neighborhood associations in central Kent to provide updates on Kent Station parking and access project, including Scenic Hill, North Park, Mill Creek and the Kent Downtown Partnership. If your organization would like a presentation, please contact Community Outreach Specialist Melanie Mayock, (206) 689-4877, Melanie.Mayock@soundtransit.org. 
Weekend Sounder trains – not just for sports fans
Want to take your kids or out-of-town guests to the Seattle Aquarium, Seattle Center fountains, Pike Place Market or the Space Needle? We all know driving to Seattle can be tough on weekends, not to mention the cost of parking. But there is another way. 
Sound Transit runs Sounder trains from Lakewood to Seattle on many weekend day games when the Mariners, Sounders FC or Seahawks are in town. You don't have to attend the game to ride the train – take the opportunity to explore Seattle for a few hours without having to drive! 
Check the Sound Transit calendar to see when we're running special game trains. Upcoming dates include June 23, July 7, July 21, July 28 and August 10. For more details and information, check our blog post.