Geotechnical investigation along 12th Avenue NE
Body
On May 1, a sinkhole was discovered in the front yard of a property on 12th Avenue NE near Northeast 62nd, above the Northgate Link tunnel path. Sound Transit's contractor responded immediately by filling the sinkhole with Controlled Density Fill (CDF), which is a fluid, self-compacting cement-like material. Over the following two weeks, the contractor conducted ground boring tests in the immediate area to verify the extent of the sinkhole and ensure it was completely filled with CDF.
Starting the week of June 6, Sound Transit's contractor will conduct additional ground boring tests south of the affected area. There has been no indication of sinkholes in this area. Sound Transit and the contractor are conducting additional investigation in these areas in order to perform our due diligence, and to provide peace of mind to the neighbors. The vehicle lane will be reopened once all the drilling is complete.
What to expect: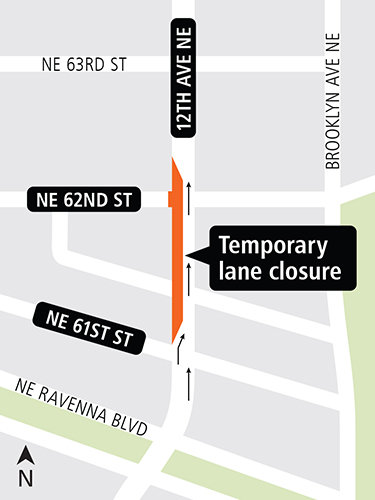 Lane closure on 12th Avenue NE between Northeast 61st and 63rd streets. Northbound traffic will be maintained. Expect traffic delays.
Temporary sidewalk closures in the immediate area.
Noise from drilling and construction equipment.
For more information, contact Andrea Burnett, Sound Transit Community Outreach at 206-903-7522 or andrea.burnett@soundtransit.org.