Lane closure: Banner Way NE & NE 78th Street
Body
As early as Thursday, March 2, Sound Transit's contractor will close a lane on Banner Way NE adjacent to NE 78th Street to start work removing instrumentation from the dewatering wells. This work will take one week to complete (weather permitting).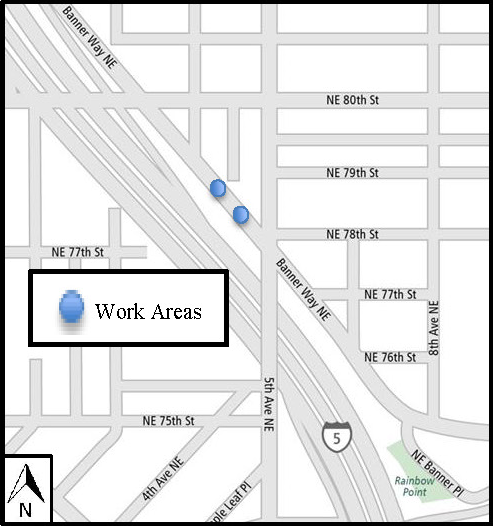 What to expect:
Traffic impacts: Southbound left lane closure on Banner Way NE in the work area. Pedestrian, bicyclist, and motorist traffic will be maintained. Traffic cones, no parking signage, roadway signage, and flaggers will be used during this work.
Construction activities: Steel plates, covering the dewatering wells, will be removed and the wells will be cut 4 ft. below grade.The discharge line will be removed along with the electrical conduit and the area will be backfiled. When the soil is replaced it will be compacted, and there may be vibration from the compacting of the soil.
Equipment: Construction trucks and support equipment will be stationed on the street during this work.
Work hours: 9 a.m. to 4 p.m., Monday to Friday*
Restoration: Permanent restoration will be carried out to Seattle Department of Transportation standards. Current expectations for the permanent reinstatement is spring/summer 2017.
*Schedule is subject to change