Late night girder deliveries Thursday or Friday night
Body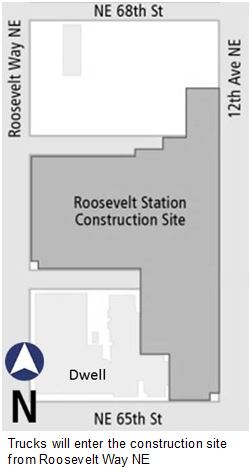 Construction crews working for Sound Transit plan to put three large concrete bridge girders into place as part of the Roosevelt Station excavation.
The girders will form the base of a bridge that will allow construction vehicles to cross the excavation from Roosevelt Way NE to 12th Avenue NE.    
The girders will be delivered on Thursday or Friday nights, Sept. 18 or 19. Due to the size of the more than 80-foot-long loads, the girders must be delivered at night for public safety and to minimize traffic disruptions.  
What is the delivery and installment schedule?
Crane arrives at 7 p.m.

Girder deliveries will begin at approximately 9 p.m.

Installation scheduled to be complete by 1 a.m.  
Residents may hear intermittent truck noise as the loads enter the construction site and crews lower the girders into place.   Crews will do everything within reason to keep noise to a minimum.
24-Hour Construction Hotline:  1-888-298-2395
For information in other languages: