Light rail construction begins in U District
Body
JCM Northlink LLC, Sound Transit's excavation and tunneling contractor, is starting work in the U District neighborhood as early as Monday December 9, 2013*.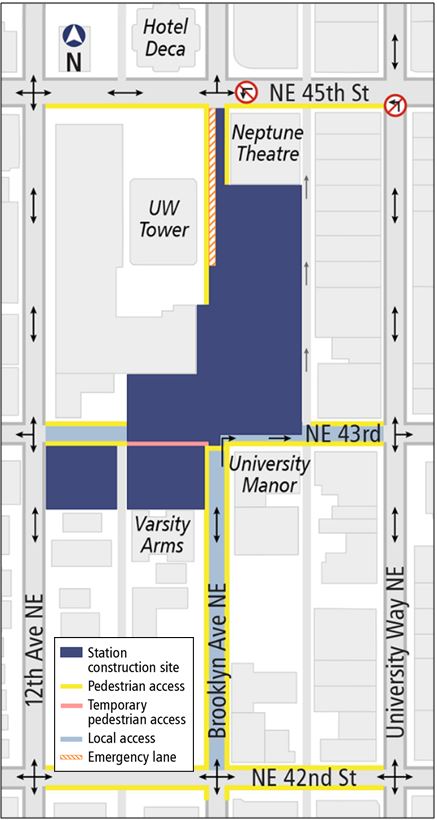 What are the traffic impacts?:
Close Brooklyn Ave. N.E. between N.E. 45th and N.E. 43rd streets

Close N.E. 43rd Street between University Way N.E. and 12th Avenue N.E. Local Access to the street alleys will be maintained·

Maintain local access on Brooklyn Avenue between N.E. 43rd and N.E. 42nd streets

Insert northbound one way vehicle lane on Brooklyn Avenue N.E to eastbound on N.E. 43rd Street

Maintain East West pedestrian connection at the N.E. 43rd and Brooklyn Avenue N.E. intersection
The next few months of work will include utility relocation, drilling of observation wells, vegetation/tree removal and the installation of the construction wall.
*Construction schedules are subject to change. Notifications will be sent out for significant changes.
FOR MORE INFORMATION
For more information about Sound Transit's U District Station project, please contact Wilbert Santos at (206) 398-5300 or northlink@soundtransit.org.
Report construction issues (after business hours) at our 24-Hour Construction Hotline at 1 (888) 298-2395.
STAY SAFE AND SOUND AROUND LIGHT RAIL CONSTRUCTION:
Obey pedestrian traffic signals
Obey flaggers directing trucks
Watch for trucks AND trailers