Mid-June closure on 110th Ave NE in downtown Bellevue
Body
On June 13, Sound Transit's contractor will close a portion of 110th Avenue NE between NE 4th Street to NE 6th Street in order to prepare the soil underneath the roadway for tunneling. The work will allow for the replacement of the current, loosely compacted soil in favor of a denser material more appropriate to tunnel through. The work area will eventually become part of the north tunnel portal. The closure on 110th Avenue NE will occur in two phases:
Phase 1 (approximately mid-June to late- July): scheduled to last approximately five weeks, will require the closure of all lanes on 110th Avenue NE in the work area (illustrated below) from NE 6th Avenue to just past the 110th Avenue NE entrance to the City Center Plaza garage.  
Phase 2 (approximately late July to early September): phase 2 will see the western-most lane reopened to southbound traffic. Southbound traffic will be able to enter both the City Center Plaza and Skyline building garages, but vehicles must exit southbound on 110th Avenue NE as well.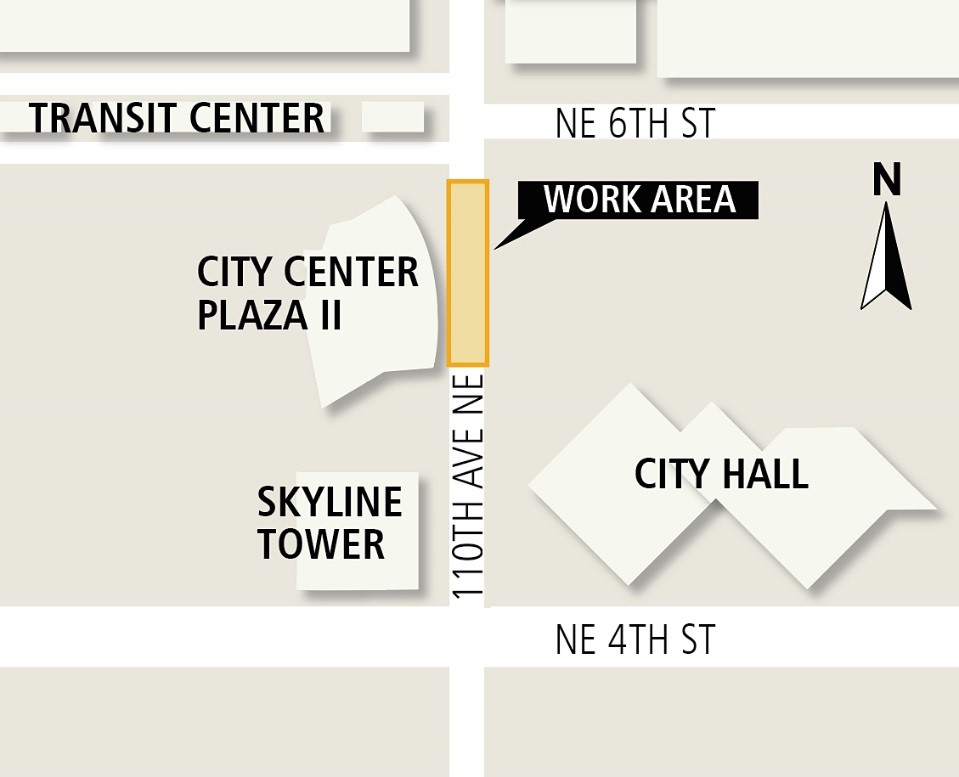 What to expect
Work between 7 a.m. and 8 p.m., M-F.
Signage prohibiting vehicles and pedestrians from entering the work area. 
Vehicle access to Skyline Tower, City Center Plaza and Bellevue City Hall will be restricted to a right turn only from westbound NE 4th Street. 
The sidewalk on the western side of 110th Avenue NE between NE 6th Street and NE 4th Street will be closed. The sidewalk on the east side of the street will remain open. 
The Bellevue Transit Center will remain open. 
A safe and secure work area at all times.
For more information
For the most up-to-date construction information, sign up for alerts at www.soundtransit.org/subscribe
Contact Blake Jones, Sound Transit Community Outreach at 206-398-5470 or blake.jones@soundtransit.org
Contact Choose Your Way Bellevue if you are interested in learning more about ORCA and Vanpool promotions being offered during the closure on 110th Avenue NE. Choose Your Way Bellevue also offers custom commute plans and carpool/vanpool matching.
For issues that need immediate attention after normal business hours, call Sound Transit's 24-hour construction hotline at 888-298-2395.