Monitoring for ground movement during construction
Body
Construction crews building the U District Station will be installing two ground settlement monitors on NE 43rd Street this Thursday and Friday, Feb. 20-21.
These underground monitors, called extensometers, will be installed to a depth of about 50 feet below ground near where the future tunnels will be constructed. The monitors will assess ground movements and will notify contractors if construction movement exceeds the allowable limits during tunneling and excavation activities.
A drill rig will be used to bore the hole for monitor installation. The work will be completed between 7 a.m. and 5 p.m.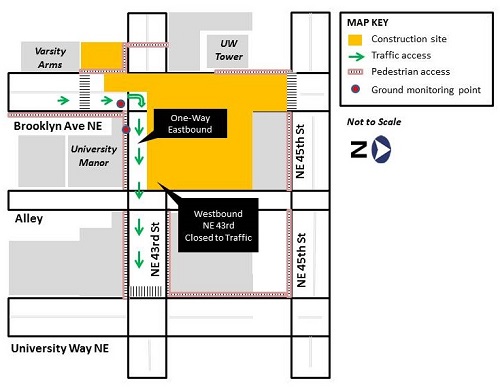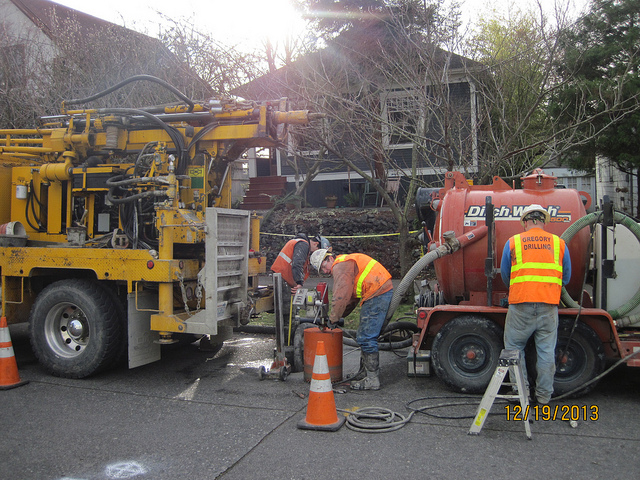 Installing ground monitoring equipment near Roosevelt
Vehicle Access
A flagger will be directing vehicular traffic through the work area. Drivers will be able to access NE 43rd Street between Brooklyn Avenue NE and University Way NE by heading north on Brooklyn Avenue NE and then turning east on NE 43rd Street using the one-way street. Drivers should proceed with caution through this area.
Pedestrian Access
Pedestrian access will be maintained during this work. A temporary pedestrian pathway will used while crews are working within the sidewalk. A flagger will be onsite at all times to help pedestrians get around construction.
U District Station


The U District Station is under construction on Brooklyn Avenue NE between NE 45th and NE 43rd streets. The station is part of the future 4.3-mile Northgate Link Extension connecting Northgate, Roosevelt, and U District neighborhoods to downtown Seattle and Sea-Tac Airport.
For More Information:
Web: soundtransit.org/udistrictstation
Phone: (206) 398-5300
Email: northlink@soundtransit.org
Construction Hotline: For issues that need immediate attention after normal business hours, call Sound Transit's 24-hour construction hotline: 1 (888) 298-2395.