New ADA ramps to be installed – lane closure: Roosevelt Way NE between NE 71st and NE 72nd street
Body
As early as Monday, Jan. 8, Sound Transit's contractor will start the installation of three new ADA ramps on Roosevelt Way Northeast between Northeast 72nd and Northeast 71st street (see map). The contractor is now working along the alignment restoring the above ground work areas used to help build the cross passage underground.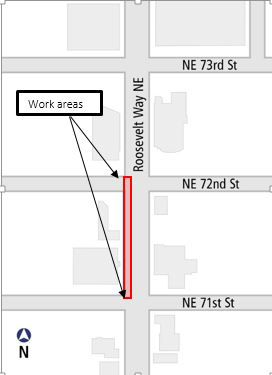 What to expect:
Traffic impacts: Southbound right lane closure on Roosevelt Way Northeast between Northeast 71st and Northeast 72nd street. Pedestrian, bicyclist, and motorist traffic will be maintained. Traffic cones, no parking signage, roadway signage, and flaggers may be used when travel lanes and parking areas are affected during this work. Driveways will remain open.
Sidewalks: Will be closed on the west side of Roosevelt Way Northeast in the work areas. Pedestrians will detour to the other side of the street.
Construction activities: Sawcutting and removal of current ADA ramps. Installing new ADA ramps and pouring new concrete. Once poured concrete will take 72 hours to cure.
Equipment: Concrete, construction trucks and support equipment.
Work hours: Monday to Friday 7 a.m. to 5:30 p.m.
Duration: Jan. 8 – Jan. 19.