Night-time closure of portion of NE 103rd Street
Body
On Friday night, 1/4/2019, to Saturday morning, 1/5/2019, NE 103rd Street from 1st Ave NE to 3rd Ave NE will be closed while Sound Transit's contractor places concrete for the station's escalators and stairs. 
What
Extended closure on portion of NE 103rd Street.
When
Friday night, January 4, to Saturday morning, January 5, 8:30 p.m. – 4:00 a.m.
Where
Closure of NE 103rd Street east of the 1st Avenue NE intersection to west of 3rd Avenue NE intersection (see map). 1st Avenue NE will remain open in both directions. 
More
Access to Northgate Mall and Northgate Transit Center will be maintained. 
Access to Northgate Station garage will be maintained. Drivers exiting garage must head east towards 3rd Ave NE.
Construction equipment includes cranes, forklifts, man lifts, and welding machines.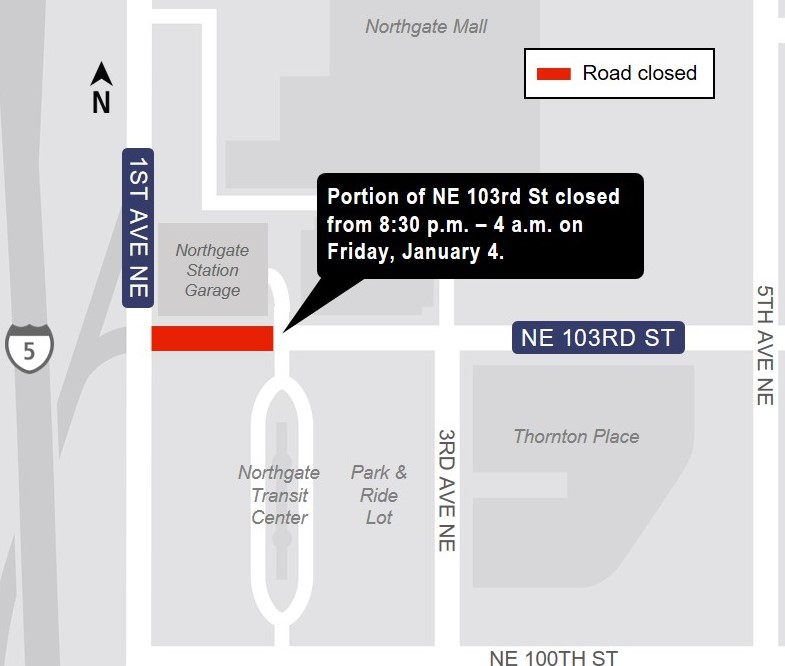 Contact us
Outreach Specialist: Alexis Lair, northlink@soundtransit.org or 206-398-5300
After-hours construction hotline: 888-298-2395