Nighttime equipment delivery this weekend
Body
Construction crews building the U District Station will be making an early morning equipment delivery to the site this weekend.
Heavy equipment, including a crane and a drill rig, will be delivered early in the morning on Friday, Jan. 24 and again on Monday, Jan. 27. Crews expect the equipment to arrive at approximately 4 a.m. on both days. Nearby residents may hear continuously running engines while crews use a crane to unload the equipment. Sound Transit has received a noise variance from the City of Seattle to perform this work during overnight hours.
Setting the foundation for the U District Station
This work is setting the stage for the future U District Station. Twenty-four concrete foundations will be drilled and poured to support the future building structure.
Construction impacts will include:
noise from the drill during soil removal

noise and dust from pouring the concrete

trucks hauling soil offsite
Crews will minimize dust, noise, and light impacts to the extent possible. This foundation work is expected to be completed in two weeks.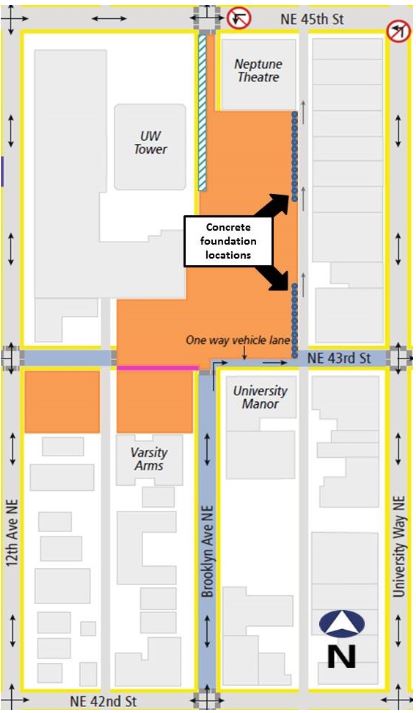 Northgate Link Extension
Northgate Link Extension will connect the Northgate, Roosevelt, and U District neighborhoods to downtown Seattle and Sea-Tac airport. Fast, reliable service will provide relief to one of the region's most congested traffic areas. The 4.3 mile extension is expected to be open for service in 2021.
The U District Station is located in the University District on Brooklyn Avenue NE between NE 45th and NE 43rd streets and will serve the surrounding residential community, the "Ave" business district, other employment sites, the UW Tower, and the north University of Washington campus. It will include two station entrances, each include elevators, escalators, stairs, and bike parking totaling about 100 spaces. The site was designed to accommodate future development above the station. When the station opens, riders will be able to travel to the airport in 41 minutes and to Northgate in about 5 minutes.
For more information, please call (206) 398-5300 or email northlink@soundtransit.org.
For information after normal business hours, contact Sound Transit's 24-hour Construction Hotline at (888) 298-2395.