Northgate electrical line update
Body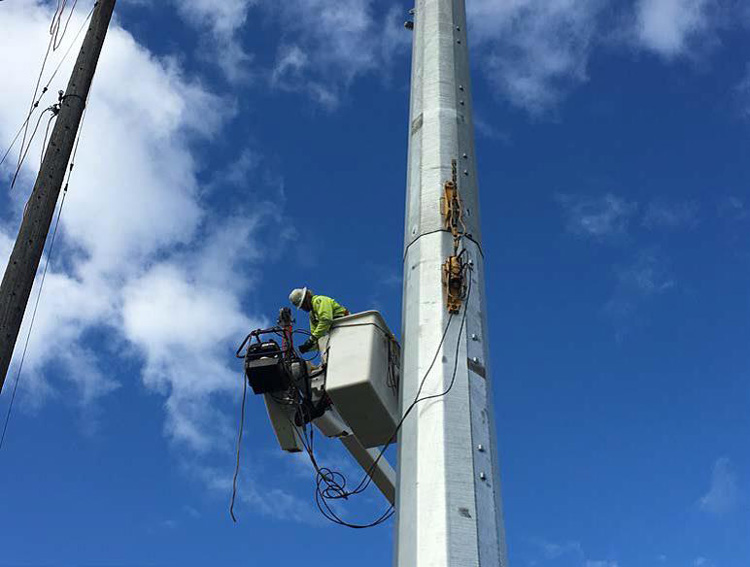 A worker uses hydraulic jacks to pull the electrical pole sections together.
Sound Transit's contractor continues to make good progress on a new electrical line in the Northgate neighborhood. The line is being relocated in order to construct the Northgate Station.
The new line will run along the west side of I-5 on Washington Department of Transportation (WSDOT) property. Crews have finished installing the new electrical poles and wire. In the coming weeks, the contractor will remove the existing poles and wire and energize the new line.
Reminder: parking changes at Northgate Transit Center Park-and-Ride
On Oct. 10, a new interim park-and-ride lot (Lot B) opened across the street from the Northgate Transit Center at the southeast corner of NE 100th Street and First Avenue NE. The new interim lot is needed to replace stalls that are occupied by Northgate light rail station construction.
As construction of the station progresses, we'll keep you informed about additional changes to the park-and-ride.
New art at the U District Station
Artist Emily Gussin has rejuvenated the graffiti art sign introducing the temporary art projects at the Gold Wall around the U District Station construction site. You can visit this newly redone artwork at NE 43rd St at the Alley between The Ave and Brooklyn.
Want to learn more about who the artists are that are creating temporary artwork for the Gold Wall at the U District construction site? Check out the artists websites that are listed on the plaques beside their artwork. Plaques have been hand painted by Sign Savant.
Where can you find Sound Transit staff this month?
Sound Transit staff plans to be available for questions or comments at: