Northgate plant salvage coming up
Body
Looking for small shrubs or trees for your property? As part of our commitment to sustainability, Sound Transit is hosting a plant salvage event on Saturday, Jan., 7 at the site of the future Northgate Station.
Plants will be available free on a first-come, first-served basis. You must supply your own tools such as shovels, pots and gloves, for removing and transporting the items. Electric and gas power tools will not be allowed.
The event is Saturday, Jan. 7 from 10 a.m. – noon.
There will be two salvage sites within the project area – both on the west side of the Northgate Mall parking lot. One site is in the southwestern part of the Northgate Mall parking lot and the second site is to the north of NE 105th Street mall entrance. Look for signs directing you to the event.
Parking will be available near each of the salvage sites.
Shrubs available to salvage include ornamental grasses, viburnum, dogwood, and wax myrtle. Trees available to salvage include pine trees.
Northgate Station construction update
Construction of the Northgate Station will ramp up in the New Year. Sound Transit's contractor, Absher Construction Company, will begin drilling the shafts for the columns that will support the future elevated guideway and station.
Drilling will begin on the Northgate Transit Center Park-and-Ride (West) property that was fenced off during the last couple months. To offset the loss of those stalls, a new interim park and ride opened at 9580 1st Ave NE and the north end of the former North Seattle Park-and-Ride has reopened on the west side of 1st Ave NE between NE 100th and 103rd Streets.
Roosevelt TOD Open House - save this date!
Sound Transit and the Roosevelt Neighborhood Association invite you to a community open house to discuss future development at the Roosevelt light rail station construction site. 
As Roosevelt Station takes shape the construction area near the station will become available for Transit Oriented Development (TOD). TOD usually involves a mix of new housing and commercial uses that creates additional ridership at the transit facility.
Combining housing and commercial activity near the light rail station will make it easier for people to use transit, support local businesses and contribute to neighborhood growth.
When: Thursday, Jan. 12, 2017 from 5:30 - 8:30 p.m.
Where: Roosevelt High School Commons, 1410 NE 66th St., Seattle
U District holiday lights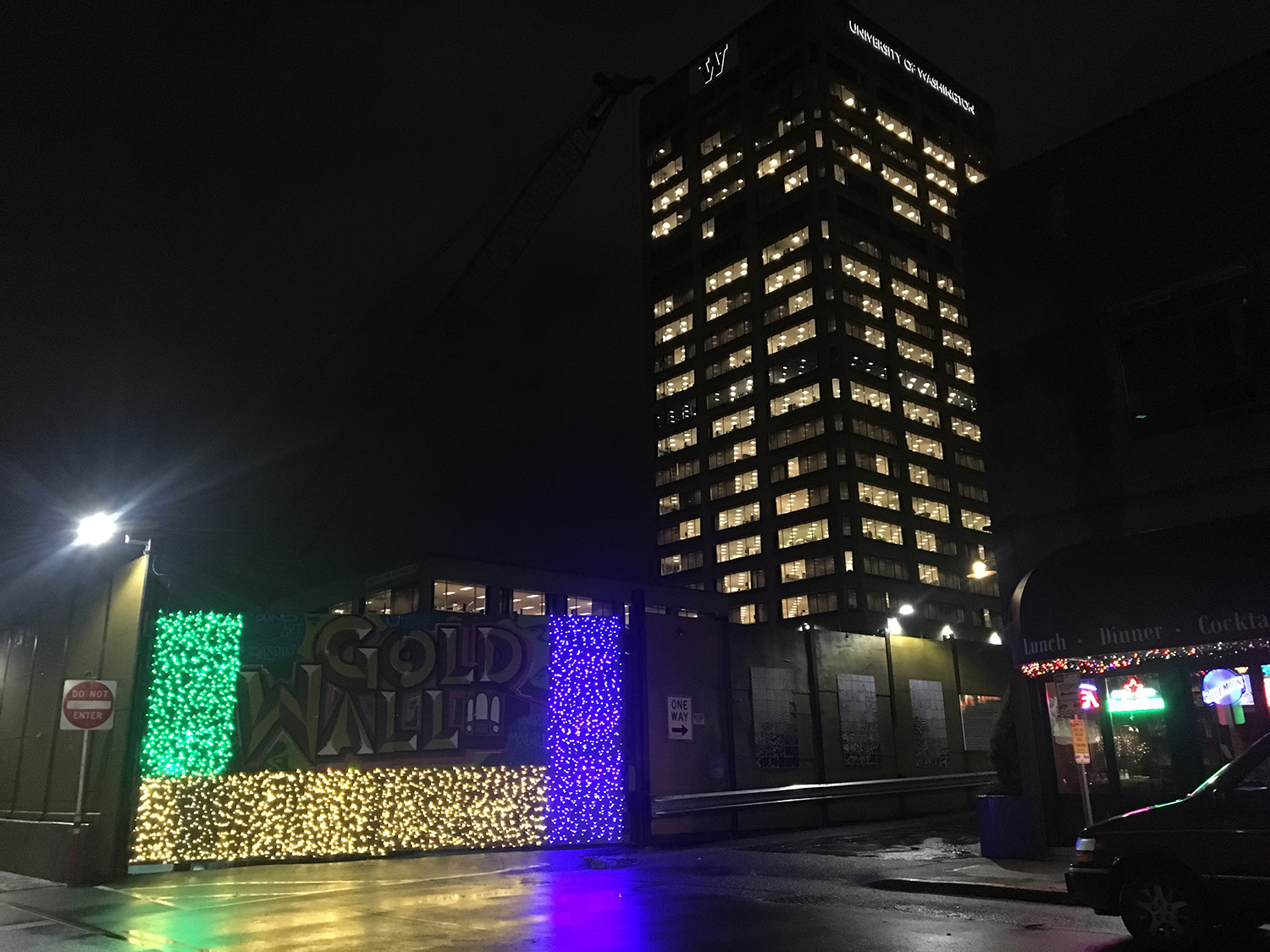 Happy Holidays from the Northgate Link team! Stop by the U District Station construction site to enjoy our festive lighting around artist Emily Gussin's Gold Wall sign at NE 43rd St. at the alley between "The Ave" and Brooklyn Ave NE.