Northgate Station construction marks major milestone
Body
Starting this week the very first girders will be delivered and installed at the Northgate Station site. Girder installation will take place between 9 p.m. - 12 p.m. on June 2nd and 9 p.m. – 5 a.m. June 5th and June 6th. Northeast 103rd Street will be closed to through traffic between 1st Avenue Northeast and 3rd Avenue Northeast during these nighttime work hours. Access to the I-5 express lane entrance at Northeast 103rd Street will also be closed during work hours.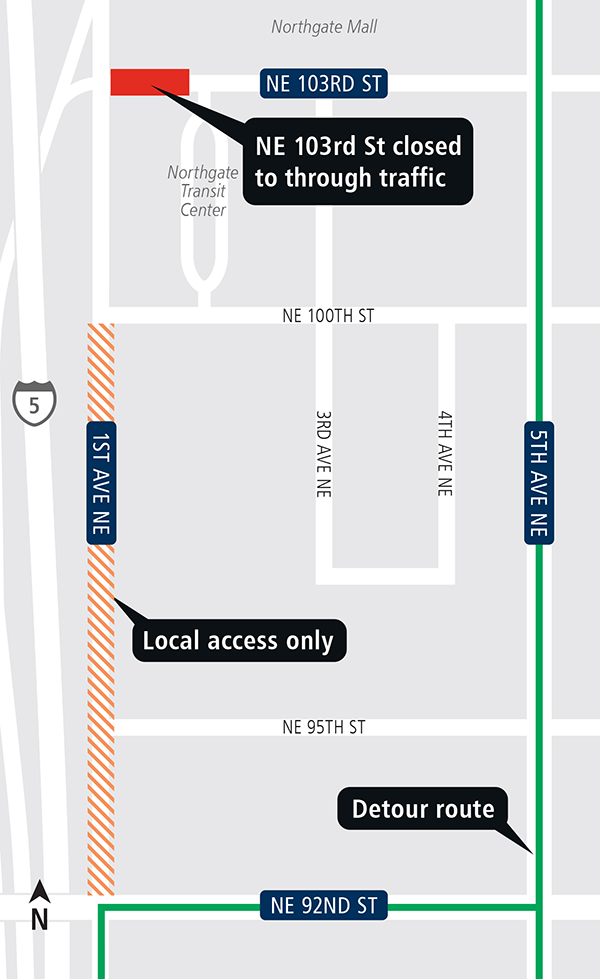 Click map to view larger version.
Want to work on the Northgate Station project?
Sound Transit's Northgate Station contractor, Absher Construction Company, will host a career fair for those interested in working on the station, elevated guideway and parking garage on June 29th.
Absher Construction Company Career Fair June 29th
New Holly Gathering Place
7054 32nd Ave. S
Seattle, WA 98118
9 a.m. - 1 p.m.
For more info please contact: Stephanie.Caldwell@AbsherCo.com or 253-845-9544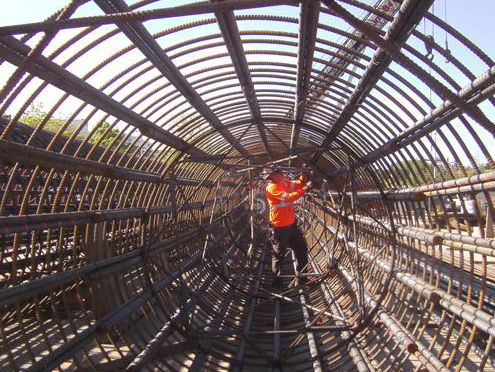 Worker ties rebar cage ahead of column work at Northgate Station site.
Drilling work to resume at the Northgate Interim Park and Ride Lot B
Starting Monday, June 5th, crews will continue drilling the shafts for the columns that will support the elevated guideway on the Northgate Interim Park and Ride Lot B property, located at 9580 1st Avenue Northeast.
During the drilling work, some commuter parking spaces in the lot will be used to stage construction equipment. Additional spaces in the lot normally reserved for construction parking will be made available to replace the temporary loss of commuter stalls. These stalls will be located mostly on the southern portion of Interim Lot B. Signage will indicate which stalls are available for commuters.
Drilling is expected to take approximately two weeks and once it's complete, the commuter parking stalls will be returned.
Roosevelt Station update
The Roosevelt Station contractor, Hoffman Construction Company, is nearing the halfway point in building the 8-foot thick station floor. During the past several weeks, they have placed 4,027 cubic yards of concrete and have 6,481 yards left to go. Thanks to the Roosevelt neighbors for being patient and alert as concrete trucks enter and exit the site to complete this work.
U District Streetfair a success!
More than 2,100 people stopped by the Sound Transit booth at the U District Streefair on May 20-21 to chat with staff on topics ranging from cross passage construction to our art program. Congratulations to our two Northgate Link tunnel selfie contest winners and thanks to all who entered!