Pedestrian path closed for Thanksgiving Day holiday weekend
Body
Construction crews building the U District Station will not be working this Thanksgiving holiday weekend.
The pedestrian path between Brooklyn Avenue Northeast and Northeast 43rd Street will be closed for the holiday weekend (Thursday, Nov. 27 through Sunday, Nov. 30). The path will re-open on Monday, Dec. 1 at 7 a.m.
Regular pathway hours are Monday through Friday, 7 a.m. to 6 p.m. The pedestrian pathway is closed on weekends and holidays.
How to get around construction when path is closed:
12th Avenue NE to NE 42nd Street or NE 45th Street
Brooklyn Avenue NE to NE 42nd Street or NE 43rd Street 
University Way NE to NE 42nd Street or NE 45th Street
The sidewalk along the south side of NE 43rd Street between Brooklyn Avenue Northeast and University Way Northeast is open during construction.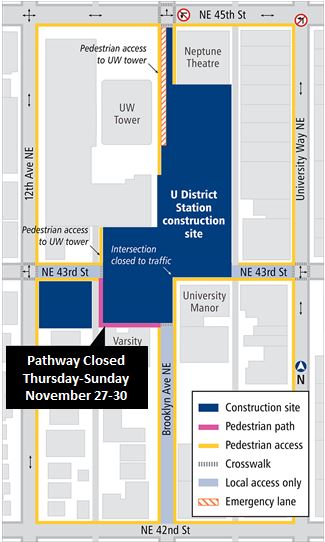 For further information, please contact Sound Transit community outreach 206-398-5300 or ulink@soundtransit.org.
For issues that need immediate attention after normal business hours, call Sound Transit's 24-hour Construction Hotline at (888) 298-2395.   
The University Link Extension project extends the existing light rail service to the north connecting the University of Washington and Capitol Hill to downtown Seattle and the airport. The project includes 3.15 miles of new tunnel track and two underground stations: one at Capitol Hill and one at the University of Washington. The project is scheduled to be completed in 2016 for operation.